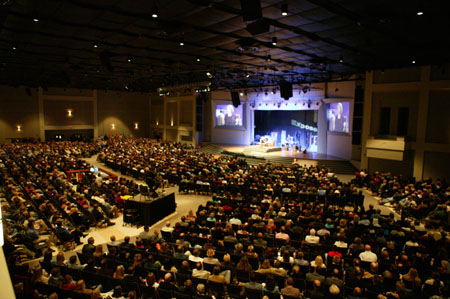 Some of you know we were at North Point Community Church last weekend for the Sunday services. I was asked by the lead pastor, Andy Stanley, and the good folks there to speak about the Jesus Creed — and I took yet another approach to the Jesus Creed by looking at the challenge of following Jesus by converting everyday people into everyday neighbors. It was Jesus' commitment to living out the Jesus Creed that led to making folks neighbors, and then I asked folks to think about creative ways they can turn everyday "peeps" into everyday neighbors. The clever folks at NPCC gave me a can of Coke to open at the end of the teaching time as a symbol of Jesus' "cup of cold water" teachings. Then they gave everyone who wanted a Coke a free one as they left the building. (Cool idea I thought.)
As always, it's an honor to be at NPCC and it begins for me with two leaders — Andy Stanley, with whom I was honored to spend quite a bit of time Sunday morning, and then Bill and Terry Willitts, with whom we dined and got to catch up on new things about life. We love these folks and admire the robust gospel work at North Point. (We miss some friends from there who are now at: New Denver Church.)


There are two wonderful folks at NPCC who simply make it happen: Diane Grant and Sarah (can't remember her last name), but these folks organize and orchestrate and have become our friends in countless ways. They are awesome. Thanks.
The production folks were great to work with, and my main contact was Jason Hodges — and it is an honor to know these folks enhance the worship and teaching with behind the scenes organization and skill. The worship band, well, fantastic.
We're back next week and our focus in this second Jesus Creed sermon will be on how James, the brother of Jesus, followed Jesus in using the Jesus Creed to bring clarity to difficult issues facing the early messianic followers of Jesus.
Some folks came to see us, and I have to mention three: Derek Leman (reader of the blog and commenter and messianic rabbi, who said my Hebrew wasn't too bad), Alice Hall and Kathy Oboikowitch, and I apologize for knowing their pre-married names only! They are friends of our kids from Libertyville. Some family friends were there, too — and it's nice to see friends like this in Atlanta.