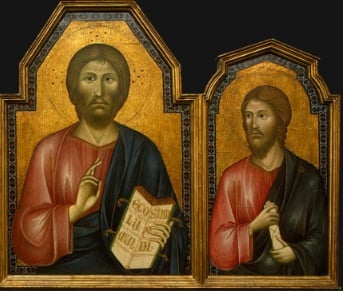 We will look this week at James 1:22-25, and I want to begin by quoting these most important of verses:
22 Do not merely listen to the word, and so deceive yourselves. Do what it says. 23 Anyone who listens to the word but does not do what it says is like a man who looks at his face in a mirror 24 and, after looking at himself, goes away and immediately forgets what he looks like. 25 But
the man who looks intently into the perfect law that gives freedom, and
continues to do this, not forgetting what he has heard, but doing it-he
will be blessed in what he does.
Once again, James — the one to the right — looks like his brother.

Any number of texts come to mind, but what first comes to mind for me is the ending of the Sermon on the Mount: those who are the true followers of Jesus are those who follow him by doing what he says. The parable of the foolish man and the wise man, at its heart, is a parable about saying vs. doing, a parable exhorting his listeners to follow him by doing what he says.
A "doer" of the word is one who both listens and does and the counterpart is the one who listens (and knows) but doesn't do.
Inherent, evidently, to the second group is self-deception, as if listening brings with it an air of congratulations for the knowing. The self-deception is not a major issue for James, but it is clearly present in this text: James, like his brother, expects his readers to do what he says. Not because he is God but because what he utters is truth and authoritative.