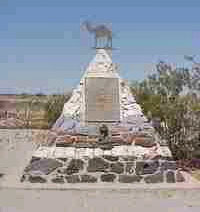 Altaf Husain started the session on "Our American Heritage" during the 49th annual convention of the Islamic Society of North America with a challenge. "Who are we as a community," he asked the audience on Sunday [2 September 2012]. "What does it mean to be an American Muslim?" A resident of Cleveland, Ohio, his specialty is working with immigrant and refugee families.
Most Americans still see Muslims through a "foreign" prism. "That way, it's easy to 'otherize' Americans who are Muslim," he said. "We need to take our narrative to the public sphere."
However, what was pitched as a session on uncovering Muslim American history turned out to be a promotion for America's Islamic Heritage Museum, which opened on April 30, 2011, in Washington, D.C.
The first panelist was Amir N. Muhammad, president of the museum board, and the second, Matthew Brooks, was introduced as museum staff.
Mr. Muhammad gave a quick overview of the history of Muslims in North America, from the Moriscos who arrived with the Spanish through the subset of African slaves who were Muslim to the present day.
Mr. Brooks examined Latin America's Islamic heritage, especially in the regions of Mexico and Peru. He noted that many came to this hemisphere under false names because, officially, Muslims were not allowed to travel to the New World during the Colonial period.
Both noted that research was scant on the topic, and both said that more work was in order.
To this writer, who has conducted research on Islam in America, it seemed at times during the session that current scholarship was missing entirely (for example, the Melungeons of Appalachia have been identified through DNA as free descendants of unions between white women and African men in colonial Virginia, not as descendants of "Moors").
It also seemed that the panelists were conflating Orientalism with Islamic heritage — for example, concluding that Moorish design motifs were evidence of Muslim influence rather than a fleeting Western fashion for Middle Eastern design.
It is this writer's opinion that poorly documented narratives do nothing to enhance the image of Islam in America — which does, indeed, have a long and rich history.
Dr. Husain noted that Muslims are a part of the American mosaic. "If we don't invest in uncovering the past, we're not investing in our future," he pointed out. "Muslims have contributed to America; we make the United States a better place."
During the question and answer session, one commentator pointed out that a more critical analysis of Muslim history needs to be done. This writer couldn't agree more.
(Photo courtesy of Collections & Stories of American Muslims)