Hollywood screenwriter William Goldman was famous for saying, "Nobody knows anything."
The writer of The Princess Bride and All The President's Men meant that in his profession, no one knew whether a film would do well or not. No one.
Our forward-looking vision is so limited.
Goldman's sentiment perfectly fits one of the Bible's most sublime passages. In Isaiah 46:10, the Lord says:
"I make known the end from the beginning, from ancient times, what is still to come. I say, 'My purpose will stand, and I will do all that I please.'"
In the chapter, God is comforting a fearful and troubled people, and promises that His salvation is coming.
All this seems so relevant to me for the strange time we are living through. The Coronavirus chaos has left people fearful, and we don't seem to know much. Experts are scrambling to get a handle on the virus and various models and projections simply foment fear. Will 100,000 die? Or millions?
Is the virus already running its course, as horrible numbers drop in places like Italy?
We just don't know.
God does know, however. And He does not want His people to be afraid.
I'm something of a researcher and news junkie, and I've been tracking stories—many of them marvelous—of people navigating through the fear and uncertainty. I thought of a friend recently and had a conversation with him about how his corner of the world is functioning. I think it is an example of discerning leadership in a time of crisis.
Vic Kennett is founder and CEO of Kerusso, the world's largest Christian apparel company. With so many afraid of free-falling finances, I am struck by the fact that Vic runs a multi-million-dollar company, and he has a burden most of the rest of us don't have: keeping his people employed. What would it be like to pull into the parking lot every morning and know that a lot of people depend on your decisions for their livelihood?
Vic is well aware of the book of Isaiah—he found the Lord through his study of Bible prophecy many years ago. And now for 30+ years, he has manned the wheel for Kerusso. His perspective right now thrills me, honestly.
During a crazy week when companies were being brought up-to-speed on health practices in the workplace, Vic took time to answer my call and said he had some thoughts about how we can trust God in crisis.
"I know that fear is an enemy; I know as believers we should not operate out of fear or in fear. That said, it is a very human emotion and condition and it is very easy to gravitate toward fear."
He feels the Lord has been preparing him for this moment.
"I'm not a nervous Nellie—however I'm human and we all have the temptation to fear. It's always around us. About a year ago God impressed on my heart a message I'd heard a hundred times but had not internalized it:
"Fear comes to your door, just like a package from UPS. There's a knock on the door. Well, if the driver says here is your package, you don't have to take it. You can actively refuse it.
"Fear knocks on the door and we say come in; let's bring it in. Let's live together. We just do it. We just live in it."
Vic drove the point home, and I'm glad he did. I began to feel better myself!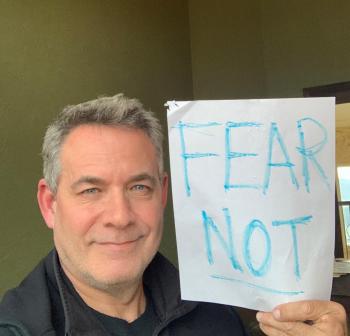 "When God says fear not, it doesn't matter if I feel like it or not. I'm just going to stop doing it. JUST DON"T. Just resist it!
"Do we really believe God or not?"
Ah, there is the central question.
None of us know where this virus will go and when it will end. But as spiritual beings, we don't have to figure it all out, and our worry will not help us in any way.
I work for myself and only have to take care of myself. In a rural setting, my life is not as chilling as many across the country and across our world. At the time of this writing, even British Prime Minister Boris Johnson is in ICU due to the virus.
But in the past few hours, his fever has dropped.
I think the fear fever has dropped at Kerusso, too.
It's been a wild two weeks. I'm grateful for my friend, a regular guy that built something special by believing in God. He has chosen not to fear.
If I watch too much TV news about this lethal virus, or listen to social media, I realize nobody knows anything.
Except God!
Fear not!