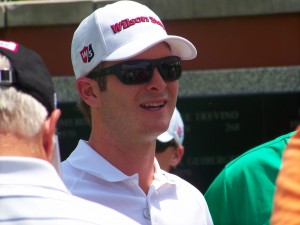 Kevin Streelman has been plugging away for the past 12 years on various golf circuits including the last five on the PGA Tour. So when he was in contention to win the Tampa Bay Championship this past weekend, Streelman relied on the same steady patience that allowed him to make it this far in the first place.
In his 153rd career start, Streelman finished 10-under par on the Copperhead course at Innisbrook to claim his first PGA Tour victory.
Golf has been one of Streelman's passions since he was introduced to the game by his parents while growing up in the Chicago area.
Streelman was recently featured in the book Life in the Fairway and part of that interview was highlighted by Inspiring Athletes.
"When you are a believer (in Christ), when you have your priorities in life lined up, situations in life come up and you first look to Him," Streelman said. "The answers to your questions are quickly answered. Who can set a better example than a perfect, living God."
Check out the entire Inspiring Athletes interview with Kevin Streelman by clicking below:
A conversation with Kevin Streelman
Read more from Streelman along with Webb Simpson, Stewart Cink, Ben Crane, Jonathan Byrd and several other PGA golfers on the subject of integrity in Chad Bonham's brand new book Life in the Fairway. Others featured include Aaron Baddeley, Justin Leonard, Bernhard Langer, D.J. Brigman and St. Louis Cardinals pitcher Adam Wainwright who wrote the foreword.