In 10 years with the Buffalo Bills, defensive end Chris Kelsay has yet to experience the hype of the NFL Playoffs. Still, the Nebraska native and former Cornhusker star has managed to put together a solid career. And while he would certainly love a shot to play more than 16 games–even if just once before he retires–Kelsay has come to understand that his time in the league has served a much greater purpose.
In this Inspiring Athletes interview, Kelsay talks about his faith story, his time at Nebraska and why it is an interesting time in the NFL:
Chad Bonham: Tell me about your faith background and your spiritual journey.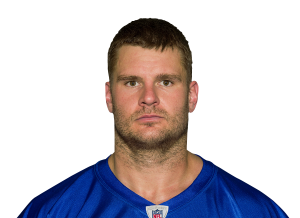 Chris Kelsay: I grew up in a very rural area in Southeastern Nebraska in a town called Auburn. There are about 3,000 people. We went to church but not every weekend. We were always there on Christmas. We were always there on Easter. Athletics was a huge part of growing up in a small town like that. I enjoyed hunting and fishing and being in the outdoors with my pops. I did know who Jesus was but I didn't know what a relationship and a personal walk with Him really was until I got to college. And it wasn't before my junior year that I committed my life to Him. When I first got to college, I took my academics very seriously and obviously took my playing very seriously. I had a good time. But I was living a life that was kind of "one foot in, one foot out." I wanted to fulfill my own selfish desires at the same time.
There was a guy by the name of Chris Bubak who works with a lot of athletes at the University of Nebraska. He just sat me aside one day and asked me where I stood with my relationship (with God) and if I'd like to meet with him. So I started meeting with on a weekly basis, just the two of us one on one and we started working through the Book of Romans. That's kind of where my commitment to the Lord kicked off. When I was drafted after my senior year and went to Buffalo, there's another man named Brett Raines who is with Athletes in Action and him and his wife have been ministering to the Buffalo Bills for over 20 years. He just picked up where Chris left off with me. It all just came together.
Bonham: What do you remember about being around Tom Osborne?
Kelsay: I remember coming home from basketball practice one day and Coach Osborne was sitting in our living room. He was there to recruit my older brother Chad. To walk in our front door and see him sitting on our coach was pretty surreal. He retired my senior year in high school so I never played for him, but he's truly an icon. He did it the right way. He put his faith first. He always looked out for the best interest of the University of Nebraska. He's just a tremendous man to know.
Bonham: How much did you spiritual growth in college help prepare you for the NFL?
Kelsay: I didn't have to carry that burden by myself. That's a lot to go through for any young man. Temptations and expectations are really thrown on top of you right after your senior season when you enter the draft. It's a long, tiresome, grueling period of time. My faith really helped me through that. I don't know how the guys that may not have a relationship with Jesus Christ get through that time. I've tried so many times to do things on my own but it always leads me back to Him. As arrogant and selfish as we can be sometimes, He's always waiting for us. That's one thing I continue to tell myself.
Bonham: How has marriage and fatherhood changed your life?
Kelsay: What I do is not who I am. But who I am hopefully affects what I do. I always place faith, family, friends and football in that order, in terms of priority in my life. Even going into my 10th year in the NFL, it still holds true. My wife grew up in the church. She had a very influential spiritual background. My children do now too. A lot of my faith is a result of my marriage. As a father, I want my children to grow up in the faith and know who Jesus Christ is. My daughters know who Jesus is. As they get older and mature and start to face their own trials and adversity in life, I want them to be able to realize that we're always there for them, but they also have Jesus Christ right next to them wherever they go. One day they're going to have to leave the nest and make decisions on their own. I just hope that they have an intimate enough relationship with their Lord and Savior that they can make wise decisions.
Bonham: What are your thoughts on so many guys like Tebow stepping up and being proactive in telling others about their faith?
Kelsay: When we played the Jets last year, the Christians on both teams prayed after the game as we always do. I went up to Tim after the prayer and I whispered in his ear, "I appreciate your witness." He's been under the spotlight for so long—even back to high school. People have waited for him to screw up for so long and he hasn't. I really credit him for how disciplined and faithful he is. God bless him to be share as openly as he does. I really commend him for that.
It's an interesting time. People are wondering about (the Christian faith). People are talking about it. I think it's God's way of opening it up and allowing Christians to step forward and show the world what they believe in.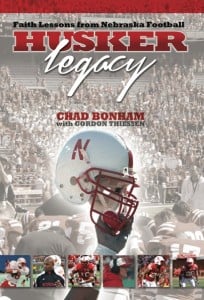 Chris Kelsay is featured in the new book Husker Legacy along with other former Nebraska football players and coaches including Roy Helu Jr., Eric Hagg, Prince Amukamara, Josh Brown, Turner Gill, Mike Minter, Ron Brown and Tom Osborne. Check it out HERE.