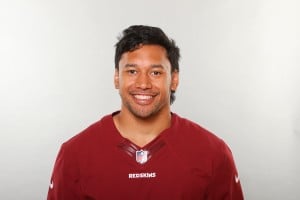 It hasn't been an easy road for Washington Redskins running back Roy Helu Jr. Throughout his career, the explosive athlete has been forced to overcome nagging injuries en route to his dream job in the NFL. Helu Jr., in fact, will miss the remainder of the 2012 campaign after suffering lower leg injuries and turf toe less than a month into the season.
Despite those setbacks, the second year player has already made a significant impression on Redskins fans. Last season, they caught glimpses of greatness when he set the franchise record for most receptions in a single game (14) against San Francisco. No stranger to adversity, Helu Jr., dealt with injuries during his playing days at Nebraska as well, but his time in Lincoln wasn't just about football. He made significant strides as an ardent follower of Christ through significant relationships and the ministry of Fellowship of Christian Athletes.
In this Inspiring Athletes interview, Helu Jr., shares his faith story, how some key people impacted his life, and what it means to represent God on the football field:
Chad Bonham: Tell me about your spiritual journey.
Helu Jr.: Before I came to college, I knew about God and I postured myself as a Christian. A lot of it just had to do with me behaving good. But that would only last for so long—behavior modification. And then I remember going to church because my mom went to church. She was reborn during my sophomore year in high school and she started taking me. She wanted me to go to church because she knew I'd be going to college soon. That was her wish for me. So I'd go and I'd be on this spiritual high and think I was going to go back to school and I'd be way different and people would see that. I was just trying to change how I acted because it felt good on Sundays. That would only last for so long the following Monday and then I'd start to act out of what was really in my heart and that was nothing but selfish desires.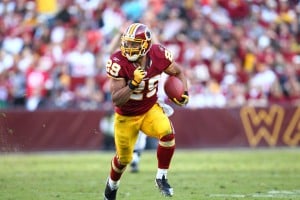 So I came to college and my mom called the team chaplain and asked for him to get in touch with me. I started to go to some of the Bible studies, but my life wasn't different. It didn't look different. But I felt really good when I went to Bible study. We weren't winning my freshman year and times were really hard. I had feelings of depression and sorrow. I just came to the point where I was realized life had to be different. I called the chaplain and for the first time I was really honest with myself and with people who were really believers. I asked him what it really meant to be a Christian because everyone at that Bible study and in high school were saying they were Christians but their lives didn't look different and neither did mine. He went through scriptures with me and at that moment I think God called me to His own. I received the Holy Spirit there and I've been on fire ever since.
Bonham: Nebraska assistant coach Ron Brown has made an impact on a lot of players that have come through that program. How did Coach Brown make a difference in your life?
Helu Jr.: I remember one time when we were in the middle of spring practice. It was dark outside. It was about 6 a.m. I went into his office and we had a talk about life. Throughout my junior year when I was having trouble physically, I would go into his office and we would talk about the scriptures and He would have a lot of encouragement for me.
Bonham: Tell me a little bit about your former Nebraska teammate Eric Hagg (now with the Cleveland Browns).
Helu Jr.: He's a very instinctive player. He's very athletic and can play multiple positions on offense or defense. As a man of God, he really helped me out. It was an awkward stage for me when I became a believer. I was in the Word and I was finding a lot of joy and encouragement in it. But eventually I hit a dry spot and I didn't know that you needed to have fellowship with Christian friends. Eric was there for me after our freshman season. We would have some awesome, honest discussions and from then on it's been a really good relationship. He's like a brother.
Bonham: In an interview during your rookie season, you talked about your desire to be "a better representative of God on the field." What does that mean?
Helu Jr.: It's about playing every down like it means everything. It means playing with all of my ability and a total release of all of my talents that God has given me. I want to give the same effort on the first play when my body is fresh and wants to get more yards as I do on the 64th play when I'm dragging my feet and my body is telling my that I can't run over a tackler. I pray throughout the game for strength and focus so I can carry out my assignments. Jesus was focused on His mission when He came down and walked amongst us. People spit in His face. He could have brought angels down. But He was so focused on doing God's will. I try to take on that mentality, but it only comes through knowing God.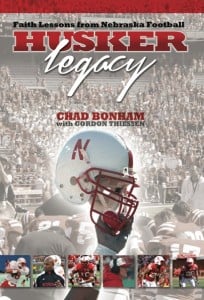 Read much more from Roy Helu Jr., in the forthcoming book Husker Legacy (Cross Training Publishing) tentatively slated to release in November 2012. The book also features past players such as Trev Alberts, George Andrews, Josh Brown, Todd Brown, Turner Gill, Eric Hagg, Chris Kelsay, Mike Minter, Cory Schlesinger and Jerry Tagge, as well as long-time assistant coach Ron Brown, former assistant George Darlington and college football legend Tom Osborne.