My writing career began about 22 years ago. I was entering my second semester as a freshman at the University of Tulsa when the sports editor at The Collegian asked me if I'd like to write some stories for the paper. I jumped on the opportunity. I had no clue what I was doing at the time as evidenced by the first few stories I wrote (including my first two pieces about the tennis teams). Eventually, I improved as a writer and took over as the sports editor by my junior year.
Why do I mention this ancient history? Because back in January of 1990, I never would have imagined having the opportunity to write for a living, much less be able to convince publishing companies that my ideas were worthy of their valuable resources. I'm pretty sure only God Himself knew that these things were in my future. He gets all the credit for implanting in me a measure of creativity and the drive to lead me down that path.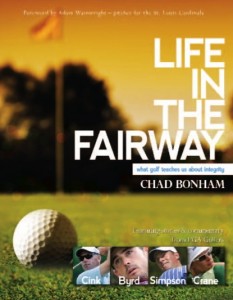 And that brings me to the real point of this story. Earlier this year, I was proud to announce the release of my new book Glory of the Games, which features 18 Olympic athletes sharing various biblical principles. Well, just four months later and I've been blessed with the unbelievable opportunity to share with you another book that I have written called Life in the Fairway.
This title has been published by New Leaf Press and talks about the correlation between the game of golf and the biblical concept of integrity. It features exclusive interview content from several professional golfers including 2012 U.S. Open champion Webb Simpson, former British Open champion Stewart Cink, two-time Masters champion Bernhard Langer and PGA Tour winners Ben Crane, Jonathan Byrd and Aaron Baddeley. Life in the Fairway also features a foreword written by St. Louis Cardinals pitcher Adam Wainwright.
The book is available in print and in e-book form and will also be available in various bookstores and via multiple online outlets including:
Family Christian Stores (hardcover)
Check out this video preview of the book produced by New Leaf:
If you have a chance to pick up the book, please let me know what you think. I trust that you (or whomever you purchase the book for) is positively impacted by Life in the Fairway's timely message. Thanks so much for your support!