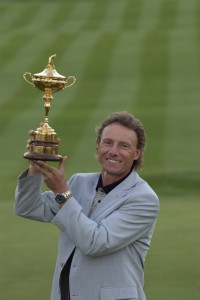 Bernhard Langer is one of golf's true legendary figures. With two Masters titles, 85 professional wins and the 2004 Ryder Cup championship as the European team captain to his name, it's not difficult to understand why he was named to the World Golf Hall of Fame while still an active PGA golfer and four years before moving on to the Champions Tour.
But for Langer, any sense of satisfaction comes less from his impressive accomplishments and more from knowing that he has done his best to compete with integrity and live the same way as a father, husband and follower of Christ. In this Inspiring Athletes interview, Langer talks about why he loves the game and how integrity plays an integral part of every aspect of his life:
Chad Bonham: Why do you love the game of golf?
Bernhard Langer: First of all, it's always a challenge. It's different every day. It's you against the golf course. You can't blame anyone else. It's just your own performance and there are so many aspects to the game. You have the long shots and the chip shots and the bunker shots and the putting. It's all very different. It's always been a challenge. I was good at just about any sport I tried, but golf has the most wonderful rules and there's (the element) of integrity and honesty that comes with it. Golf was just a great game to pursue when I was younger and I don't regret it.
Bonham: What are some of the reasons why the rules and codes of conduct exist within the game of golf?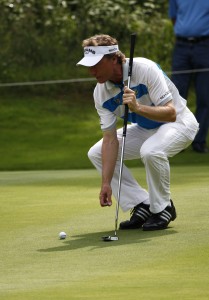 Langer: They were passed on to us and it's a game of integrity and a game of honesty. We have very specific codes of rules and regulations—especially out on tour. I don't know what the players do in their regular clubs, but on tour you don't want to be known as a cheater. What other sport in the world does a player give himself penalty shots? The ball might move in the rough and nobody would know, but we declare penalty shots on ourselves. In any other sports, they're trying to get away with cheating and pushing and roughing the other guy up or getting an advantage one way or another. That makes (golf) pretty unique.
Bonham: How does integrity impact your life away from golf?
Langer: It's impacts every impact of life in a sense. You always tell the truth. Sometimes it seems to hurt when you have to come out with the truth, but in the long run it's always better to tell the truth instead of somebody finding out later that you covered it up or lied. That's what I try to teach my kids. It's always the case that when somebody else finds out later, you get punished for lying and you lose the trust of the people that you have lied to. If my son lies to me, I'll never know if he's telling the truth or not in the future.
Bonham: How can living a life of integrity strengthen your platform and your influence as a Christian golfer?
Langer: Some people who don't believe, they might mock us and laugh at us. Other people who have the same mind set, they look up to us and maybe look at us as role models. It just depends on who you're involved with and who's talking about you and how they see it.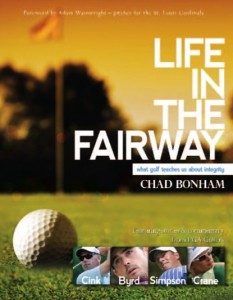 Read more from Bernhard Langer along with Webb Simpson, Stewart Cink, Ben Crane, Jonathan Byrd and several other PGA golfers on the subject of integrity in Chad Bonham's brand new book Life in the Fairway. Others featured include Aaron Baddeley, Justin Leonard, Kevin Streelman, D.J. Brigman and St. Louis Cardinals pitcher Adam Wainwright who wrote the foreword.