Lauren Cheney has experienced the indescribable high of 2008 Olympic gold, the devastating low of falling short at the 2011 World Cup and everything in between. That wide range of emotion has both tested and strengthened her relationship with God.
In this Inspiring Athletes interview, the USA Women's Soccer star talks about how she fell in love with soccer, the people that helped her fall in love with Jesus and how her World Cup experience has prepared her for the 2012 Games:
Chad Bonham: How did you get started playing soccer?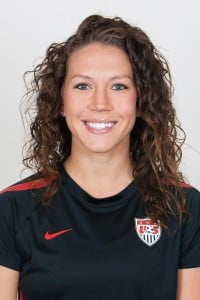 Lauren Cheney: I started playing soccer because my brother played soccer. I followed everything that he did. I played on the boy's teams until I was 12. I just loved it and had a passion for it. You couldn't get a soccer ball away from my foot.
Bonham: What impact did the national team have on your interest in the sport?
Cheney: I didn't really get into the women's national team until the '99 World Cup. Then I realized how badly I wanted to play for my country and play in the Olympics. I was a nerd. I would put together team books for Team USA but it was really just all my best friends that I thought would be on Team USA with me. It made it real to me. That's when I knew I could play on that stage one day.
Bonham: What was the basis for your spiritual foundation growing up?
Cheney: I was raised Lutheran my whole life. I went to church on Sundays. My mom raised us in the church. It was a slower paced service. There were a lot of older people except for a few young people in the youth group. So at that time, I was going to church. I was baptized as a baby, but I don't think I really knew what it meant to have a relationship with God on my own.
Bonham: When did you start to grow deeper in your faith?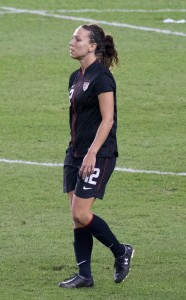 Cheney: In junior high school, I went to some youth camps and that's where I started to discover the presence of God. I was able to experience God through the singing and by talking to other girls that had similar experiences. That opened my eyes but I still had to seek out that relationship. I didn't drink or do any of those things so I was very loyal in that sense. While I was in high school, I made the U20 women's national team. Tobin (Heath) was on that team and the entire team was Christians including the head coach (Tim Schultz). He was on fire for the Lord. I just remember praying one night, "God, I want what he has." He was so passionate and he would cry and he would laugh. I wanted that too. And that's when I really started to seek the Lord.
Bonham: Talk about the contrast between the 2008 gold medal and the World Cup loss in 2011.
Cheney: I've learned to give God the praise in the highs and the lows. That's not easy. It's not easy to lose the World Cup and say, "Thank you Lord," because it hurts and it doesn't feel good. But especially at such a high level, your life is a rollercoaster. Our lives are completely full of highs and lows. I'm so grateful that my confidence in Christ is never shaken. My identity in the Lord will never be shaken. My career will come and go but being faithful to that has made my relationship with Him what it is.
Bonham: Was the World Cup a confidence boost for you as an individual player?
Cheney: The World Cup gave me a lot of confidence—just to know that I can play at the highest level and not only complete but play well. That's my foundation and I can go from there. Going into the Olympics I'll be a lot more confident. I'm excited to play. It's such a big stage.
Bonham: Talk about the spiritual foundation for the team and the importance of having Christian accountability on the team.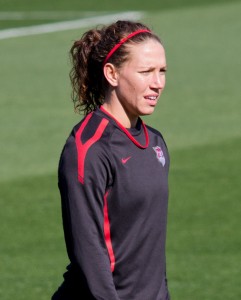 Cheney: Our team is really special. We have a pretty solid group of believers—Tobin Heath, Amy Rodriguez, Heather O'Reilly, Jillian Loyden. We all stick together and have Bible studies. At the World Cup, we would have a church service on Sundays. We'd play worship and it would be so loud. We'd write church on the door and everyone was welcome. It's become not only important to all of the believers, but the entire team embraces it. I've grown up with Tobin. I've played with her for years. She is so reckless for Jesus. Watching her has set me on fire and she's done that for the other believers on the team. It's awesome to have so many women going through the same struggles and that we can talk to each other about it. Without other believers on the team, it would be a much more difficult job.
Bonham: What is the future of women's soccer and are you still fighting for relevancy?
Cheney: People are just more drawn to men's sports. It's a fact. Men are more athletic. It's a quicker style of play. But I think women's soccer is so important. Soccer is the biggest sport for little girls. It's so important for us to give these girls a dream and something they can aspire to be. It's not to be paid millions of dollars. None of us play for that. None of us female athletes play for that.
Read more of this interview with Lauren Cheney in the July/August edition of FCA's Sharing the Victory Magazine.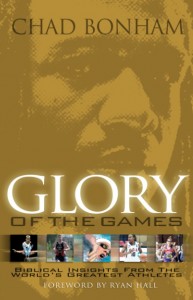 And check out Chad Bonham's latest book Glory of the Games that features 18 past and present Olympians such as Tobin Heath, Shannon Miller, Tamika Catchings, Josh Davis, Ryan Hall, Dave Johnson and Kevin Durant discussing various biblical principles that have helped them succeed as elite international athletes.