Click "Like" to share this with your friends!
Ask just about any elite athlete what it takes to reach the highest level of competition and you'll probably hear words such as "determination," "endurance," "focus," "passion," "patience" and "self-discipline." But in the race we call life, there is a greater purpose than winning medals, breaking records and obtaining wealth and fame. That's what the new Cross Training Publishing book Glory of the Games is all about.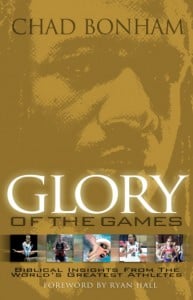 I have recently been blessed with the opportunity to feature 18 Olympic athletes who realize that they have been gifted with athleticism and drive in order to bring glory to God and share with others the hope that accompanies a relationship with Jesus Christ. The Olympians you can read about in this book include Chris Byrd, Tamika Catchings, Michael Chang, Kelly Clark, Josh Davis, Kevin Durant, Ryan Hall, Tobin Heath, Chad Hedrick, Shannon Miller, DeLisha Milton-Jones, Bobby Jones, Dave Johnson, Hunter Kemper, Ruth Riley, Lyndon Rush and Laura Wilkinson. All of the chapters feature interviews that I have personally conducted with these impressive individuals.
Here's what others are already saying about Glory of the Games:
"At a time when the sports world is in desperate need of more athletes with godly character, Chad Bonham's new book Glory of the Games shares the stories of 18 Olympians who have not only excelled in their respective fields but have done so with Christ at the center of their lives. Whether read by aspiring athletes and coaches or sports fans looking to be inspired, this book will point everyone towards vital biblical principles that will transform their lives." – Pat Williams (Senior Vice President, Orlando Magic)
"As Chairman of USA Basketball, I've been privileged to see firsthand the characteristics of the Olympic athlete. In Glory of the Games, Chad Bonham gives a glimpse into these principles that guide some of the world's elite competitors and more importantly how we can all become champions in the race of life." – Jerry Colangelo (Chairman, USA Basketball)
"Like most coaches, I have always been fascinated by the Olympics. In Glory of the Games, Chad Bonham captures the essence of the elite athlete through this collection of compelling stories. His unique writing style is able to inspire, teach, and challenge the reader to pursue life-changing biblical principles. Read this book and then give copies to those people you love who combine a passion for Jesus and sports!" – Jane Albright (Head Women's Basketball Coach, University of Nevada)
"This is a must read for every athlete, coach and fan. Chad knows and understands the power of sports, and the life-changing principles that are produced in the heat of competition. Dig in and enjoy the journey into the hearts of the greatest competitors of all time." – Dan Britton (Executive Vice-President Ministry Programs, Fellowship of Christian Athletes)
"Glory of the Games takes you inside the minds and hearts of some of the world's greatest Olympic athletes who trusted God in times of success and failure while leaving the consequences to Him. Chad Bonham asks the reader challenging questions with the aim of helping everyone grow in their relationship with Christ, and with each other." – Dave Pasch (NFL and NCAA Sports Broadcaster)
To pick up your copy of Glory of the Games, ask your local bookstore if they carry the title or visit the following links where both hard copies and e-book versions are available: