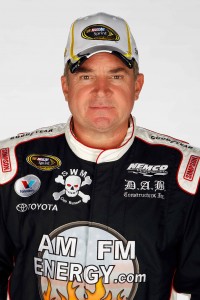 Throughout the 1990s and much of the early 2000s, Joe Nemechek had a reputation for qualifying near the front that earned him the nickname "Front Row Joe." Since debuting in the Nationwide (then Busch) Series in 1990, he has won 16 races in that series plus four races at the Cup level. He was also named 1990 Busch Series Rookie of the Year and claimed his one series championship in 1992.
These days, Nemechek is doing his best to keep up with the multiple car teams in both series through NEMCO Motorsports group. It's his love of the sport that keeps him on the track, but it's his faith in God that help him push through the challenges of running a pair of underfunded teams. In this Inspiring Athletes interview, Nemechek talks about how he got his nickname, why he enjoys racing in the Nationwide Series and how Motor Racing Outreach has impacted his life:
Chad Bonham: What fuels your passion for the sport at this stage in your career?
Joe Nemechek: I love this sport. There are a lot of other things I could be doing out there, but I love to race. I'm fortunate to have the opportunity, to have the team and to have the resources to be able to do this. We accomplish a lot at NEMCO Motorsports with very little. We've been through the good days where we had the sponsorship we needed to get out there and win races and dominate. We've done that. But in this day and time, we don't have the resources to compete like that. It's just about survival right now. We run both series but due to the financial aspects, we can't run in all of the Cup races. The more economical way I can get out and race is with the Nationwide car. When we get sponsorship, we'll get out there and race. We definitely run the Speedway races, the road courses and some of the short tracks. You've just go to make the dollars and cents add up to be able to do it. Otherwise, you can go broke pretty darn quick.
Bonham: How did you get the nickname "Front Row Joe?"
Nemechek: The one who made it stick was Wally Dallenbach. That was back in '97, '98, something like that, at Pocono. All three of the SABCO cars were fast and Wally had the pole and we had a later draw. When they were interviewing him, they said, "That's going to be the pole." And he said, "No, you've got to wait for old Front Row Joe to go. He's going to end up beating all of us." Sure enough, we did. It kind of stuck ever since.
Bonham: Talk about the unique nature of the Nationwide Series.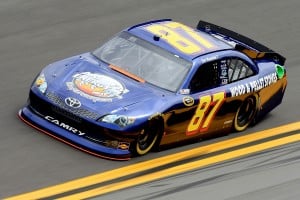 Nemechek: It's such a good series. I'm hoping there's a few changes that get made to it that make it a better series. All types of racing costs a lot of money no matter what you're doing. For the show we have, it's good. There have been days when you see Carl Edwards and those guys. We've been there. We've dominated races. Right now we can't. It's hard to compete with those guys. They're spending a lot of money and they've got a lot of people over there. Here I've got a total of five people on my Nationwide car and we're competing with these big teams. It's not really fair, but that's how the line is drawn in the sand so you've got to deal with what you have. I'm comfortable with that. If we can find a little bit of sponsorship help, we can make our stuff a little better.
Bonham: A few years ago during a rain delay, you were interviewed and you talked a lot about MRO and specifically how much you appreciated its ministry for children during the races.
Nemechek: That was in Charlotte. We had that rain delay and my kids happened to be at the Motor Racing Outreach (Family) Center doing activities. My kids are grown now so they don't get over there much anymore, but it's important. I believe in God. I always have. There's a reason that everything happens in life. God tests you a lot, but in our sport, we're gone on the weekends. We're somewhere different every weekend. We don't get to go to our normal churches or our places of fellowship when most people go. MRO has people that can help me. They're people you can talk to. But spiritually, we have our service where we can praise the Lord, thank God or do whatever we need to do. They travel with our circuit and that makes it neat. You need that. And they're not just involved in NASCAR. They're involved in motocross and all sorts of stuff.
Bonham: How has your faith helped you deal with the struggles of being a small team owner and not always knowing how you're going to make it from one race to the next?
Nemechek: It definitely helps. If you don't have faith, you have nothing. Faith is number one. Believe me, I have my days when I start questioning stuff, but you take everything and put it in perspective. I've dealt with some tragedy in my life, like losing my brother. That was probably one of the hardest days when I've been tested. But you learn what things are important. You have to prioritize your life with your family, your friends, things you want to accomplish. You've got to get all that stuff in order and having faith in these difficult financial times is very important. Our sport is driven by whatever funding you can get to make the ends meet. When I started these teams back up a few years ago, it was a big undertaking. We spent a lot of money getting this thing going. But on the good side of it, we put 13 people back to work. There was a lot of stuff going. But it made me feel good to do my part.
Bonham: How have you seen MRO and trackside ministry progress since you started back in 1990?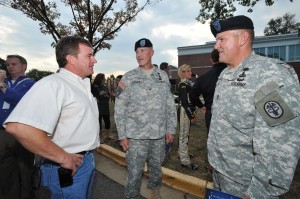 Nemechek: We've seen it grow and we've seen it shrink back. When we first started having kids, it seemed like everybody around was having kids. All the sudden, MRO got bigger and bigger and then there was a gap there where there weren't a lot of kids, so the organization shrunk back. Now the younger families are having more children and it's growing a little bit more. It's neat to look back and see how it started with two or three couples getting together and how it's grown. They've touched so many different people's lives. It's just amazing.
Bonham: How long do you see yourself involved in this sport as a driver or an owner?
Nemechek: Man I don't know, but at some point I want to relax a little bit. Having to qualify on time is very stressful. It's tough—every week. I've got a son who just turned 14—John Hunter. He's starting to race now. He's in the Allison Legacy Series and he's fixing to run some late model races. He's stepping up a lot earlier than I ever did. He's very good at what he does. Hopefully one of these days I can race against him. After that, I just want to help get him going.
Bonham: What comes to mind when you reminisce about some of your past successes?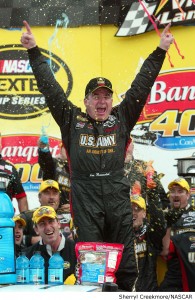 Nemechek: When you look back at all that stuff, yeah, we won some races, but when we won a race, it was like, "Okay, how are we going to win the next one?" When you're in Victory Lane, it's cool, but you're already thinking about next week and that next challenge. This sport has definitely changed with the cars and the rules. There used to be some room for innovation and that's pretty much gone now. You can be innovative, but you walk that fine line. If you make a mistake, it's going to cost you an awful lot of fine money. You've got to be smart about it.
Bonham: How has the sport enriched your life?
Nemechek: Being involved in NASCAR, I've learned a lot. I've met a lot of people. I've met a lot of special people. I've met some of our leaders. I've met some of the smartest people out there. I've met a lot of average folks. But they've all touched my life and made me look at things differently. I thank the Lord for my good days.
Bonham: So it's bigger than racing?
Nemechek: Yeah, I think it's about the relationships. When you get down to it, any business you're involved with, and racing is no different, is about people. It's all about people.
Keep up with the latest from Joe Nemechek by visiting his official website HERE.