Click "Like" to share this with your friends!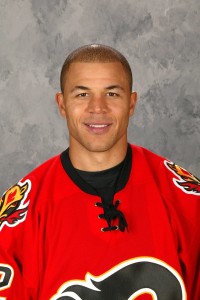 Calgary Flames captain Jarome Iginla scored his 500th career goal Saturday night in a 3-1 victory against the Minnesota Wild. Iginla is just the 42nd NHL player to reach this milestone and only the 15th player to do so with the same team. Iginla has been playing with the Flames since 1996 and is considered one of the team's all-time greats.
Inspiring Athletes posted an interview with Iginla last year where he talked about his faith, his unique upbringing and being black in the NHL. Check out that conversation by clicking HERE.
Later this spring, Iginla will be featured in a brand new book about Olympic athletes called Glory of the Games. Others to be included in this project include Shannon Miller, Dave Johnson, Ruth Riley, Tamika Catchings, Tobin Heath, Josh Davis, Chris Byrd, Ryan Hall, Chad Hedrick, Kelly Clark, Lyndon Rush and Hunter Kemper.