Click "Like" to share this with your friends!
Long before Mike Fisher became famously known as "Carrie Underwood's husband" (a title he's no doubt proud to hold), the NHL veteran had earned a well-deserved reputation as one of hockey's hardest working players. After 10 full seasons with the Ottawa Senators, Fisher was traded mid-season to Nashville last year where his country music star wife resides. While some Ottawa fans cried foul, Fisher (who explains the situation in this interview) knew the move was an unexpected blessing.
In this Inspiring Athletes interview, Fisher talks about his Christian faith, his recent marriage to Underwood (the two wed in July of 2010), his move to Nashville and a brand new kids book that tells his life story:
Chad Bonham: Tell me about your background and how you became a Christian?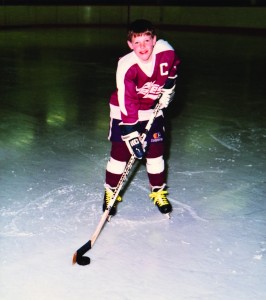 Mike Fisher: It's kind of a long story, but I grew up in a Christian family in Peterborough, Ontario. Both of my parents were raised in Christian homes, which was great. They instilled in us that God came first and they showed us what it was like to have a relationship with Christ. I accepted Christ at a young age, at the age of six years old, and just tried to play hockey and balance that. I had some struggles later in my teenage years. I moved away from home and struggled a little bit being on my home and finding out who I was and trying to mix that with my faith and make it real. I learned a lot of lessons and made some mistakes along the way. I was probably about 22 years old when I recommitted myself to get off the fence and go all in and get serious about my faith. That's really when I experienced God's love and His forgiveness and His true grace. I worked through a lot of things. I needed it to be my own not just because it was what I grew up in. I needed it to be something real for me. That's what it became. It's been a lot of fun along the way. I've learned a lot.
Bonham: Thanks to your NHL experience and your marriage, you've been able to travel to some unique places outside of Canada like Oklahoma, Tennessee and Georgia. What have your learned from those travels?
Fisher: It's been fun. I traveled for hockey but it was mostly throughout Ontario as a kid. We had one trip to Florida when I was really, really young. We never went on family vacations because we were always going to hockey tournaments. I made one trip out west to (British Columbia), but other than that I hadn't done a lot of travel until I started playing professionally and I've got to see a lot of different cities and states. I love Nashville. And I've visited Oklahoma a few times. It's fun. It's great. Carrie is proud of her hometown (of Checotah, Okla.). She loves to get back when she can. We don't get back as much as we'd like to, but it's a great place for sure.
Bonham: Being married to someone whose schedule is just as crazy if not crazier than yours, have you found a formula that brings a healthy balance to your lives?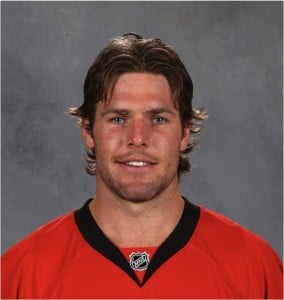 Fisher: When we dated and then when we were first married, it was just a week here and a weekend there. That became our norm and we got used to it. We talked on the phone and Skype. We were able to do (Bible) studies together and pray together. Early on in our relationship, it was good because we were dating and getting to know each other really well. Then now, and once I made it to Nashville, I get to see a lot of her when she's not out on tour. We got to spend a lot of time together this summer and now that the season is starting again, we're like, "How did we do it before?" But she'll be going back on tour next year. When we're both busy, it might be easier than when one of us is just sitting at home and the other person is gone all the time. Because we're both busy, we're always looking at our schedules. "When are here? When are you there? How do we do this?" You just make it work. It's tough to go a month and not see each other, which we have done, but when you do see each other, there's nothing better. It's awesome.
Bonham: Even though it was a trade situation that was orchestrated by the teams, you took some criticism from the fans in Ottawa when you went to Nashville last season. Both emotionally and spiritually, how do you deal with that kind of criticism and other disappointments that inherently come your way as an athlete?
Fisher: You're always going to face a little bit of criticism from time to time. But I was so blessed in Ottawa for so many years. The fans were great to me there. I was blessed to have some good friends and family nearby. So I really just try to focus on all those good things and how fortunate I was. I think it's about putting things in to perspective and I know that God had his hand in all of that. He allowed me to be drafted close to home and then the trade happened. I didn't ask for the trade or want to leave but it was probably the best things that could ever happen because of Carrie and I. Just to see God's hand in that is incredible. We'd lost 11 in a row before I got traded and things were a little dicey. I didn't know what was going to happen. After the trade, my mom told me a day before I got traded that she thought, "Well maybe the season isn't going so well for Mike so he can get traded to Nashville and be with Carrie." She called it. She knew that's what the Lord had in mind. It was really a blessing. We can doubt the Lord when we go through tough times, but you know that He's always got your best interest at heart. When you see the overall picture afterwards, you're like, "Why did I even doubt?"
Bonham: What does the title of your kids market biography Defender of Faith (by Kim Washburn for Zonderkidz) mean to you?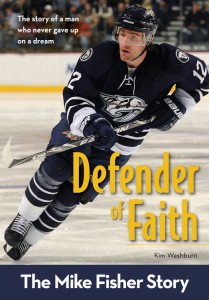 Fisher: I think part of it is about the way I play. I know (the title is) a play-on-words, but I consider myself a pretty hardworking guy and I like to play hard, play physical and play well defensively too. It's partly about my style and obviously I have spoken about my faith and that's really a part of who I am and I've never shied away from sharing that. God's given me this talent and ability and this platform. The worst thing to do is to blow that off and not give the right people credit. He deserves all the credit. My faith has been a big part of growing up into who I am and who I'm trying to become. Hopefully I can be a good light in the hockey world and promote faith as something that's really real.
Bonham: What message do you hope sinks in the hearts of the young people that read this book?
Fisher: Ultimately, I hope that the kids that don't have a faith will begin to search that out and ask, "What's that about? What does it mean to have a relationship with Jesus?" Even if just one person reads this book and accepted Christ, that would make it all worthwhile. It would be awesome. And then there are those kids that have a faith and know Christ and I hope that they're encouraged to share it and to use their gifts and talents and abilities and not be afraid to tell people about Christ and to be open and to not be ashamed and to be proud of it—to have the courage to do that. That would be awesome.
Bonham: Hockey isn't known for having a lot of outspoken Christians. How do you manage to exist in that world and what hope do you have that more players will begin experiencing a life of faith?
Fisher: Hockey has come a long way—even over the last 10 years. You're seeing a few more guys and there are some great chapel programs through Hockey Ministries International. Hockey has gone through a rough summer too with a lot of the deaths and tragedies. I really see God working through that. But for me, it's just trying to be real. I've been in the league for a while and the first few years were probably the toughest but after that, for the most part, the guys have come to respect that it's part of who I am. If you're truly living the way Jesus lived, then you're going to get those people that disagree. But you're also going to get those people who, if you're loving them the right way and you're being a good teammate, are going to like you too. For the most part, it's been great. I've met a lot of good people and I've been blessed to play with some great Christian guys too that have encouraged me a lot. I've seen guys grow in their faith through those relationships.
Bonham: Your wife has been quoted about how much you've helped her grow in her faith. How sobering of a thought is it that you are biblically responsible to be the spiritual leader of your marriage and how seriously do you take that responsibility?
Fisher: I take it very seriously. We're both doing this thing together but I take it seriously that we make sure we're encouraging each other and praying together and growing spiritually. That's such an important thing. The closer we feel to God, the closer we feel to each other. When we're in the Word and growing and doing things we need to be doing, it makes the relationship so much better. That's so important and that's a top priority for sure.
Bonham: Do you feel like it's your responsibility to model that for other husbands out there?
Fisher: Yeah, even with just my teammates, I've been able to be an example for those guys that aren't even married yet and showing them God's way to date properly and how to do the right things. I've gone through all that. I've been on the wrong side of it and done it the wrong way and fortunately with my wife, we did it the right way and God has really blessed that. That's allowed me to help some other guys along the way. It's all part of being a leader. That's what I try to do.
Stay up on the latest from Mike Fisher including his charitable work with youth hockey by visiting his official website HERE.