Click "Like" to share this with your friends!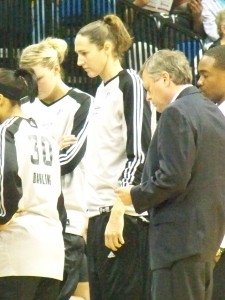 Tonight marks the start of the 2011 WNBA Playoffs. Tomorrow night will be the first game between Western Conference opponents (1) Minnesota and (4) San Antonio. Following the Silver Stars final game of the season in Tulsa, Inspiring Athletes had a chance to catch up with two-time WNBA champion and 2003 WNBA Finals MVP Ruth Riley:
Chad Bonham: What does it take to do well in the WNBA Playoffs?
Ruth Riley: Playoff basketball is a whole different game. It becomes more physical. It becomes more about execution. You see a little less scoring because the defense picks up. Every possession is important. You're going to find a lot of that coming into the playoffs.
Bonham: How important is it for you to have these opportunities that increase your platform as a Christian athlete?
Riley: It's a great opportunity as an athlete to continue on and play in the playoffs and have a greater platform to use the gifts and abilities that God's given you, ultimately for His glory. That's why we go out there and play. You know I'm fortunate here in San Antonio. We have a lot of believers on this team. That definitely gives us a bond beyond what we're trying to do on the court.
Bonham: How much of a difference does it make when there are so many like-minded individuals on the same team?
Riley: I've definitely been on teams where you don't have that. Detroit was more of a personal journey for me. But it's exciting as an athlete to have others believers beside you that you can encourage in their game and their walk with Christ. We're all striving to be like Christ. It creates a different atmosphere.
Bonham: Is it fun playing against other Christians like Tamika Catchings?
Riley: Tamika is the hardest player to play against. It's just amazing the heart and passion that she puts into every possession on offense and defense. She's an unbelievable example for me as another player in the league and for the fans who love watching women's basketball.
Follow the WNBA Playoffs by visiting the league's official website HERE.