Click "Like" to share this with your friends!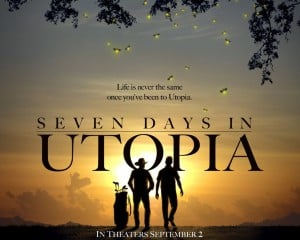 About six years ago, I had the chance to interview Dr. David Cook about his brand new book Golf's Sacred Journey. This fictional title was at first self published and then went on to become a bestseller. PGA tour members and scratch golfers alike gravitated to its inspirational yet challenging story.
Now, the book has been adapted into a film (that opened last weekend) titled Seven Days In Utopia starring Academy Award-winning actor Robert Duvall.
Back when I first talked to Cook about his novel, the renowned Christian sports psychologist revealed a little bit about his philosophy and how it shaped the book's characters.
"The Lord gave me the vision that (sports psychology) really didn't have eternal value," Cook said. "What really had eternal value was to help men that feel ordinary in life to become extraordinary in life and for eternity."
That's not to say Cook hasn't been extremely successful at helping athletes achieve their fullest potential. While at the Kansas University, he helped legendary coach Larry Brown turn a selfish group of athletes into the 1988 NCAA men's basketball championship team.  Cook has also worked with the San Antonio Spurs and numerous PGA golfers. But ultimately, his hope for this film is the same as his original goal for the book along with his daily profession working with elite athletes.
"Performance enhancing and sports psychology has no eternal value," Cook said. "Helping somebody run faster, throw better, shoot better, make more money, reach a higher level of performance has no eternal value. If I had ended my life only helping people attain a higher level of performance, then in the long run I would have a wasted the greatest opportunity given to me."
Take a look at the official trailer below:
Visit the official Seven Days In Utopia website by clicking HERE.