Click "Like" to share this with your friends!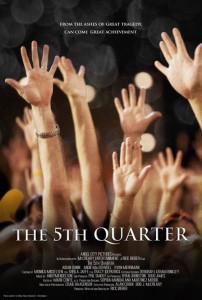 The feature film The 5th Quarter releases today on Blu-ray and DVD through Twentieth Century Fox Home Entertainment. The football movie tells the true story of Abbate family and how the tragic loss of their son Luke spurred the Wake Forest football team to greatness and inspired an entire community.
Earlier this summer, Inspiring Athletes spoke to lead actor Ryan Merriman who plays Jon Abbate, Luke's older brother and former Wake Forest football star.
"(This movie) put life in perspective for me," Merriman said. "When you meet a family that's been touched by something so terrible, you kind of step back for a minute. You call your mom and dad and tell them you love them. That's how I felt. I got a richer outlook on life after working with (the Abbate family) and meeting them."
To read the entire interview with Merriman and view the official trailer for The 5th Quarter, click HERE.