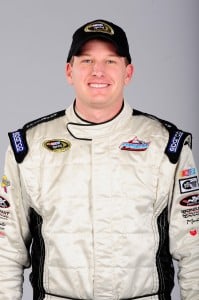 Click "Like" to share this with your friends!
He's not necessarily one of NASCAR's household names, but Michael McDowell isn't letting that keep him from pursuing his dream of becoming a mainstay within the sport. Although most well-known for his infamous 2008 crash in Texas and his road racing prowess, McDowell also wants fans to know about his deep faith in God that has completely changed his life in a relatively short period of time.
In this interview with McDowell, the driver of the #66 Sprint Cup Series car talks about that incredible wreck and his reliance on marriage and MRO to keep him on the straight and narrow:
Chad Bonham: How did you get your start in racing?
Michael McDowell: I started racing go-karts when I was eight years old in Phoenix, Arizona. My wife and I are from Phoenix. All of our family is in Phoenix. I was born and raised out there. I really raced asphalt road racing cars. Started out with go-karts and moved up to the Formula Car ranks. How I got to stockcars was sort of an interesting road. Growing up, that really wasn't the direction I was trying to go. I was trying to get into Indy Car racing. I wanted to race Champ Car. When the series merged and they dissolved the Champ Car series, there weren't a lot of opportunities for young Americans in open wheel. I was very fortunate to get to do a handful of races and then I went to stockcar racing in 2007.
Bonham: You're wreck at Texas Motor Speedway in 2008 has become the stuff of legends. Tell me what you remember about that day.
McDowell: It was in qualifying. It was my second race in the Sprint Cup series. It was 2008 and I was driving the double zero for Michael Waltrip Racing. David Gilliland had gone out two cars before me and had an engine blow up so there was a lot of oil on the racetrack. NASCAR did their normal deal with the speedy dry cleanup. Without having a lot of cars on the track at the same time, there was just some speedy dry left on the track. I got up in it and the car got loose. I went to go to the brake and we'd actually pulled the brakes back just to have more speed, which in hindsight was probably a bad decision. I went to the brake and nothing was there so I went to the other pedal, which is the gas and turned to the right and the thing just took off and shot up the racetrack. As I was going up the racetrack, I knew it was going to be a very big impact. You're doing over 200 miles an hour at Texas. When I hit the wall, the car caught on fire and it started to tumble. As it was rolling, everything slowed down. It just gets real still. It felt like it wasn't going to stop. It just kept rolling and rolling and rolling. I didn't know if I'd made it over the fence and I was on the other side of the racetrack. I didn't know if I was going to land on a motorhome in the infield because it felt like it took two or three minutes to stop. When the car finally came to a stop on the apron of the racetrack, it was sitting on all four, not tires it was, wheels at that point. The tires were deflated obviously. At least I didn't land upside down and have oil and fuel and fire pouring on me. I just did a quick check and I felt like I was okay. I put the window net down and was able to hop out on my own power. I never lost consciousness. It was just one of those things where until I personally got to see it on the replay, I didn't realize how bad it was. I knew it was pretty bad but I didn't have any broken bones or any injuries. There were a few sore months afterwards for sure. It was a big impact.
The first thing that went through my mind isn't what you'd think. It was, "Man I hope I don't get fired or lose my ride. "In motorsports, you'll hear a lot of people say, "Man, that guy was really good until he had that big wreck" or "He was on his way but then he had that accident." I didn't want to be that guy. I knew I had to get right back in it. But then I saw the replay and reality set in: "Man, I'm really fortunate to walk away from that." A lot of credit goes to the safety measures in the new car but I tell everyone that when you look at the wreck and you look at the car, it wasn't the day that God chose for me to die. That's really how I look at it.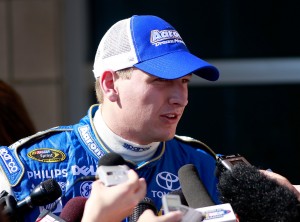 Bonham: How much strength have you drawn from your wife Jami?
McDowell: My wife and I have been together since we were 15 years old. So we've gone through this whole process together—the struggles, the high points, the low points. Trying to break into this sport is extremely difficult. There are a lot of tough times through that process. She really gets it. She knows as much about the sport as I do. She understands how hard it is. It's been an amazing journey to have that support and have somebody that not only believes in your ability, but that shares the same faith and passion and pursuit. As things go bad in your career or things go good, there's always these highs and lows. Everybody has them in their life. Jami is that constant just like how God is there. He's always the same loving God. So having a spouse that's in it with you is awesome.
Bonham: You're a big supporter of Motor Racing Outreach. How has that ministry impacted your career?
McDowell: What MRO does at the racetrack is great. If you think about it, our season is from Valentine's Day to Thanksgiving. There's only one week off between all that. We race on Saturday and we race on Sunday. Church for us is here at the racetrack. Our community is here at the racetrack. More than that, having (the chaplains) and all those guys here, they're here to keep you accountable and to pray with you when you need prayer and to rejoice with you when you need to rejoice. We have that church body here at the racetrack and it's been awesome for us."
Bonham: Does the danger of the sport (and the need for chaplains) play a part in MRO's success within NASCAR?
McDowell: This is a dangerous sport, but more so than that, it's an easy sport to get trapped in and caught up in worldly things. There's a lot of money and there's a lot of fame. It's sort of the rock star lifestyle. Just keeping yourself grounded in an environment that's surrounded by worldly things is probably one of the biggest challenges. Just putting your hope and trust and faith in Christ is what keeps you grounded.
Bonham: How did you become a Christian?
McDowell: It's been a rapid transformation. In 2003, I really started feeling God working on me. I had only gone to church for weddings and funerals. That's all I remember. I never read a Bible. I never held a Bible until I was 18 years old. We went to church a few times with my wife's family and we really went for the free lunch afterwards. God just put the right people in my life at the right time. You can have all the right people saying all the right things but if God's not working on your heart, that transformation's not going to happen.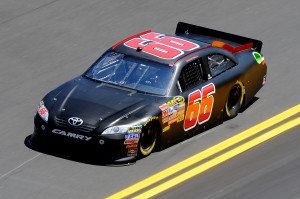 One of my close friends, an employer who was mentoring me and helping me in my career and in life, he passed away. It was a reality check for me and for where I was at and what I was doing. Somebody confronted me at Ron (Huber's) funeral. A guy named Tom Barnett said, "Where are you at? What do you think about life after death?" He left it at that. God working through all of that led me to a relationship with Christ. That didn't happen until I really understood what grace and forgiveness was and about starting a new life, not by works and not by earning it and not by anything we can do to deserve it. But it's only by God's grace. That was a changing point for me. I knew I couldn't fix it. I couldn't start over and I couldn't do it without Christ. That's when my life started to transform and I started to go through the constant changing process I'm in now.
Bonham: Why do you think there's such a strong faith element within NASCAR?
McDowell: It starts at the top and works it way down, just like any big business or sport. NASCAR still allows the invocation. The sport was built on God and our country was built on God. They keep that very grounded. I think that's a big reason why you still see that prayer time before the race starts. MRO is heavily invested in not just here in the infield but in the campgrounds and in the fan areas and in the surrounding areas of the racetrack. They're doing a lot of work outside that you don't see inside.
Keep up with Michael McDowell's career by visiting his official website HERE.