Click "Like" to share this with your friends!
Don't confuse Matt Kenseth's mild-mannered demeanor for a lack of passion. The former Cup Series champion (2003) and Daytona 500 winner (2009) has a smoldering fire in the belly that has fueled his 20 Cup wins and 26 Nationwide (formerly Busch) Series wins in nearly 15 years as one of NASCAR's premiere drivers.
In this conversation, Inspiring Athletes had a chance to sit down with Kenseth, driver of the Roush-Fenway Racing #17 car, and his wife Katie to talk about Matt's reputation, driver safety and the role faith plays in their lives:
Chad Bonham: You have a pretty good reputation for being levelheaded on the racetrack. How do you do it?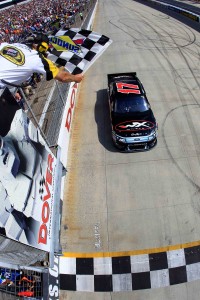 Matt Kenseth: I really don't (stay calm) all the time. I just try to. Part of not just racing but in life, I try not to let the highs be too high and the lows be too low. I try to stay somewhere right in the middle. In racing it's not always easy to do. You can get too excited or overconfident when things are going good and it's easy to get too far in the ditch when things are going bad. So I try to keep it even and keep it all in the right perspective.
Katie Kenseth: Of the two of us, I'm usually the one that gets more fired up. I wasn't really around when Matt and his dad raced at the short tracks, but from the stories I've heard, Matt has always been the one who was calming and saying, "It's okay. It's alright."
Bonham: What do you do to try to maintain your integrity?
Matt Kenseth: I'm far from perfect. There's a lot of times you'll say something that you regret or do something that you regret and wish you wouldn't have said it or done it. But if you try to take a moment and think about it and try to make good decisions and think about the consequences or how the other person might feel instead of just react, that's probably the best thing to do. In our business that's kind of hard to do because things happen too fast. But when you at least try to do that, things turn out better more times than not.
Bonham: Does it seem like your career has gone by quickly or does it seem like you just started yesterday?
Matt Kenseth: With my personality, I generally don't like change a lot. I reflect back on things quicker than I should at times. So it seems like it's gone by really quick. The older you get, the faster it seems to go by.
Bonham: How has the sport changed since you broke in back in 1997?
Matt Kenseth: The makeup of the drivers has changed a lot with so many young drivers coming and a lot of the legends moving on. Compared to when I started, it's gone through a lot of changes. The cars have changed a lot and the approach to racing. There are a lot more employees. It's become a much bigger business and more corporate.
Bonham: How much concern goes into your personal safety from week to week?
Katie Kenseth: There's been times when I've been nervous or worried, but I kind of worry about Matt more when he leaves on his motorcycle or something like that other than his race car. But I just know how lucky he is to do what he loves and the rest, I just put in God's hands.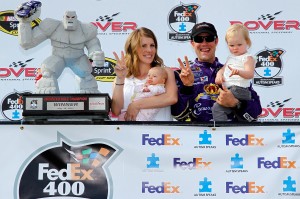 Matt Kenseth: From the naked eye it's really hard to watch what you think is bad. A lot of it's what happens in the car and how much energy is displaced and how fast the car is moving down the track. I believe that when it's your day (to go), it's your day. God's more in control than we are. Obviously you still take all the precautions and safety measures inside your car. When you go through a period like when Dale (Earnhardt Sr.) died and Adam (Petty) died and Kenny Irwin and Tony Roper and those guys, it was a really tough time and you can't help but think about it You can't help think about what's going and that you could be next if you make a mistake. I think everyone is pretty comfortable right now because of the new safety measures but I try to stay in the middle and not worry too much but I don't want to become complacent either.
Bonham: How does NASCAR's support of open displays of faith make it unique?
Matt Kenseth: We're one of the only professional sport that has a public prayer before the race and its on TV and all the fans hear it. I think that's pretty cool.
Bonham: As a guy who grew up Methodist in Wisconsin, how important is it for you to have access to a ministry like Motor Racing Outreach?
Matt Kenseth: Chapel services on race day have a calming effect. It's a nice time for us to worship and try to get the message and hear some music and have a little fellowship together before we get to racing.