Click "Like" to share this with your friends!
In part two of the Inspiring Athletes interview with Kyle Petty, the former driver turned analyst talks about the strength of his family, the giving nature of NASCAR and how faith impacts the entire sport:
Bonham: How strong of a shoulder has your wife Patty been to lean on throughout the changes you've gone through in your career and the hard work of building these two camps?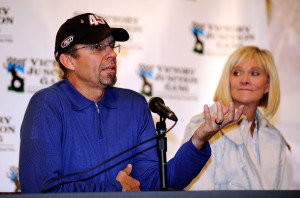 Petty: Family is the most important thing. Family starts with your wife and your kids. With Adam's accident, I lost a son. She lost a son. Her passion for the camp and her desire to make something happen has been the driving force behind the camp in North Carolina and the camp in Kansas City. I tell people all the time, we're all clowns in her circus. She's the ringmaster and we just kind of dance around and do whatever she tells us to do. But at the same time, I think she has such a vision for (the camp) and a love for it that we follow her unquestionably wherever she goes.
Bonham: Are you still amazed at the support you get from the NASCAR fans and the drivers?
Petty: Yeah, but I think it was just something that came along at the right time for our sport. Our sport was looking for something. So many drivers had foundations but they needed something to rally around and when you look at Kevin Harvick and Ryan Newman and what Kurt Busch has done and what Jeff (Gordon) and Jimmie (Johnson) have done—Tony Stewart and Michael Waltrip. I think they were just looking for a place (to support) and this is a place that jumpstarted their foundations. We were just in the right place at the right time when the sport was really growing and when fans and drivers were looking to help out. The camp has been able to flourish because of that.
Bonham: NASCAR is still so different from other sports. How do the sport's strong ties to the Christian faith tie back to the giving spirit we see within the community?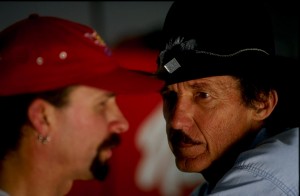 Petty: I think faith is the one common denominator between everything that goes on at the race track—a faith in Christ. You walk through (the garage) and talk to Kyle (Busch), you talk to Kurt (Busch), you talk to Kevin (Harvick). You talk to any of them. It doesn't make any difference. We have all felt like we were incredibly blessed to do what we do and to drive a race car. So when you look at it, all of them say, "Man, I'm very fortunate, very blessed to do this. I'm in a position where I can help other people." They grew up that way. They grew up in communities that helped other people. Their parents helped other people. Their families helped other people. I don't think you ever lose that spirit of giving and caring, whether its instilled in you by a teacher, your parents or your grandparents or Vacation Bible School. It doesn't make any difference. Once that seed is planted, I don't that seed every goes away. And it's not only the drivers. We talk about the drivers because they're the names that everybody knows. But when you talk about the fans that pull for Kevin or the fans that pull for Kyle or Kurt, that spirit is all a part of NASCAR and it always been. You go back a long time ago. We didn't have the camp but you can talk about so many disasters and so many things that have happened in this country that the NASCAR community has stepped in to help out for so many years.
Bonham: And where else could a guy like Morgan Shepherd do what he does?
Petty: Exactly. That's the big thing. When you look at it, it's just that kind of sport.
Bonham: How amazed are you that Morgan is turning 70 this year and still going at it?
Petty: It is amazing. Morgan's always been Morgan and that's all you can really say.
Bonham: Do you think that political correctness will ever catch up to NASCAR and force it to consider making changes to certain expressions of faith such as the pre-race prayer and the strong presences of ministries like MRO?
Petty: That's a good question but I don't really see it changing, because our sport has always been a Southeastern sport and it's kind of rooted in that and (faith) is a part of the sport. It's been a part of the sport since the first race was run. I don't think political correctness doesn't make any difference. Once that's in your DNA, you don't pass an ordinance or pass a law or all of the sudden change your DNA. I don't think NASCAR can change its DNA. I think it's passed on from one generation to the next. The fans expect it. The drivers expect it. And more importantly, I think we all want it. I don't they'll ever be able to rule it out.
Bonham: When it's just you and God, how has He helped you deal with the difficult times you've faced as a driver, as a husband and father and as someone fully engaged in giving back to the community through your charitable work?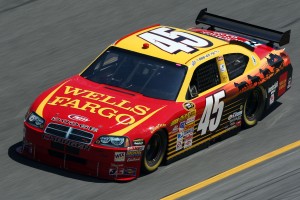 Petty: That's a good question, but my prayers are not any different from the guy who plows the field for a living or the lady that teaches school, you know, or the pastor that stands in front of a church every Sunday. You take whatever problem—and there's no problem big or small—you take all your problems to Christ and that's your sounding board, that your rock, that's everything. That's what faith is—that belief that there's somebody there that's going to help you and push you and be that person that there for you when you're in your deepest, darkest moment. At the same time, you pray for the safety of your family, for a better future and for everything. I don't think that I'm any different or that I approach how I pray any differently than the guy who's riding a tractor right now or the lady that's standing up in front of a third grade class.
Bonham: But you've found strength in the prayers?
Petty: Oh yeah. That's what faith is. That faith is believing that there's somebody there to make you stronger. There's somebody there that won't leave you alone; God's always standing by you. That's what that is. If you didn't believe that then why would you even get out of bed every morning?
For more information about Victory Junction Gang Camp, check out the official website HERE.
You can follow Petty's NASCAR.com online video broadcasts including archives of SPEED's "Trackside" and "30 Minutes You'll Never Get Back" by clicking HERE.
Click HERE to check out part one of the Inspiring Athletes interview with Kyle Petty.