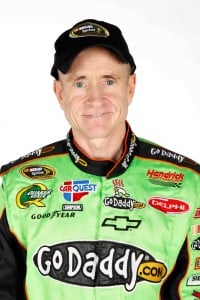 Click "Like" to share this with your friends
Mark Martin is leaving full-time racing at the end of this year. He hasn't said yet whether he'll maintain a part-time schedule or perhaps make some occasional appearances in high profile events. Regardless, it's hard to imagine the iconic figure not gracing the NASCAR garage on a weekly basis.
Martin, age 52, has won 40 Cup races, 49 Nationwide (formerly Busch) Series races and seven Truck Series races. The only thing eluding Martin's illustrious career is a Cup championship. Still, there are no regrets for the legendary iron man as he finally steps away from the sport that has been ingrained in his very existence.
Here's a conversation I had with Martin where he talks about his recent years at Hendrick, that elusive Cup title and the role faith plays in his life:
Bonham: What ultimately led you to take Rick Hendrick's offer to race in the #5 car back in 2008?
Martin: When the opportunity came along to join Hendrick Motor Sports, I was very reluctant at first because it required a full schedule again. I actually turned down the offer twice before I finally realized what it meant to me. I realized it was a once-in-a-lifetime opportunity and that I'd never have a chance again to experience something that great and I realized what an incredible honor it was to be at this stage in my career and have a team like really want me and pursue me to come and join up with them. Given all that a consideration and realizing I would probably regret for the rest of my life turning that down, I decided that I was up for a full schedule again. I've known for Rick for over 20 years as a competitor and we've admired one another from a distance. That was key. I really wasn't looking to do another full schedule again, but the Hendrick opportunity and Rick's persistence were two of the major keys to making it happen.
Bonham: What expectations do you generally bring into each racing season?
Martin: I try not to have expectations because they can tend to tear you apart. I expect to work as hard as I can possibly work and I expect to give every ounce of a hundred percent.
Bonham: Why do you think you have such great respect from the other drivers?
Martin: It makes me feel like that's sort of reaping what you sow. It makes me feel good about the decisions that I've made and the code that I've lived by and raced by. It's something that I'm proud of.
Bonham: Tell me a little bit about your faith journey.
Martin: As you know, you use it or lose it. Through all the years of my career, when I've had to work on my own race cars and drive up and down the road in the haulers, that was sort of a time period when you're sort of losing it because you weren't able to use it. I always have to thanks Max Helton and everyone from (Motor Racing Outreach) who had not only enabled me to grow and to practice and surround myself with other people that had a hunger for that as well, but also had a tremendous influence on my son Matt. It's an incredible organization that has meant so much to me and my family.
Bonham: What is the weekly impact that MRO has on your life?
Martin: Our schedule never ends. It's year round. There's very little time off. That itself extracts an emotional price—just that schedule along with your varying needs from time to time. It's just been a really important part of my life for the last 20 years and something I can't imagine what it would've been like without. It's sort of like the anchor or the real foundation for you to build your life around.
Bonham: You're known for being pretty good at keeping your composure during heated moments on the track. Why is that?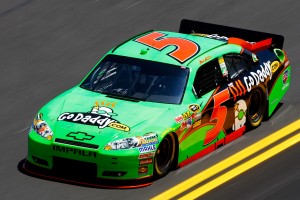 Martin: Your character is slowly built and quickly eroded. You're definitely influenced whatever you are immersed in and whatever you're around and what you're a part of. I'm far from perfect but I have managed to earn a good deal of respect by trying to implement the kinds of things you learn about. I try. I'm not always successful. But I try to treat the people the way I want to be treated. I really try to keep that in mind, but it doesn't always work. Your faith shapes the kind of person that you are. I think what you study and what you believe in has an influence in the way you live.
Bonham: How do you use your platform as a prominent Christian in NASCAR?
Martin: I don't think that I'm the smartest guy around, so I'm better off to keep my mouth shut as much as I can rather than opening my mouth and proving to people that I don't know what I'm talking about. I'm more of a leader by example than I am a preacher.
Bonham: So you don't think you'll be speaking at chapel service anytime soon?
Martin: (Laughs) I would rather not. I just don't feel like I have enough authority to do so. Preaching is a calling and mine is to lead by example. Obviously you can look at things however you choose to and I'm not proud of some people in sports, but I don't really look at it as my calling to be out there setting an example. I just try to treat people the way the I want to be treated—with respect and some dignity.
Bonham: How does that philosophy translate into the way you've raised your son Matt?
Martin: I'm not comfortable telling my kids how they should be or how they should think or how they should act or anything else. I'm not comfortable with that. He's not blind. He can see. Kids pick up and absorb a lot more than you think they do. I try to do what I think is right, and I try to lead by example. Miss Jackie (Pegram of MRO) took care of him for so long. For many years they would come to races and he would go to Bible clubs. They used to have a pretty good number of kids at that time. There's not as many now. A lot of young drivers in the sport don't have kids right now. But  you reap what you sow. Faith has an influence on who you are.
Bonham: Does it bother you that the Cup championship has alluded you despite a stellar career?
Martin: It's not on my radar screen. That slipped off my screen a few years ago and that's not something I think about much.
Bonham: What are your thoughts on former Roush-Fenway teammate Matt Kenseth?
Martin: I think he's one of the best drivers in NASCAR. He's incredibly smart and has great integrity. He's one of my very favorites.
Bonham: What about the young guy who took your place in the #6 car, David Ragan?
Martin: He shows incredible promise and makes me very proud to see him in that car. He's really a fine young man.
Bonham: What has the Petty family meant to stock car racing?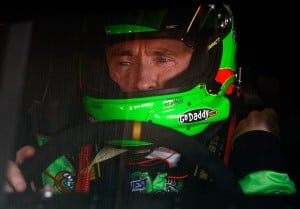 Martin: Richard's The King. That pretty much sums that up. But Kyle in my opinion is the man of the century. He really is a great man. I've known him closer than I know Richard since the early '80s and he's just an incredible individual and human being. Richard should be so proud to have a son like that.
Bonham: I assume a lot of that admiration has to do with his Victory Junction Gang Camp. How have you personally supported that facility?
Martin: I do whatever we can from visits to appearances to fundraisers—whatever we can do to help out. It's an incredible undertaking and they've been victors in that. It's phenomenal to sit around and think, "Yeah, I'd like to do that one day." (But to) put something like that together, that's taken a lot of hard work and dedication by a lot of people. Like I said, Kyle Petty is, in my opinion, man of the century.
Bonham: Are you still passionate about the sport?
Martin: I feel different but the passion is very much the same. In the beginning it was, "I hope I can do this." And now it's, "I've got to get it done now, before it's too late." It's the same thing. I go to the track hoping I can do it, but for two completely different reasons. I don't have much time left, so it makes me appreciate the opportunity much more than I did 20 years ago.