Click "Like" to share this with your friends!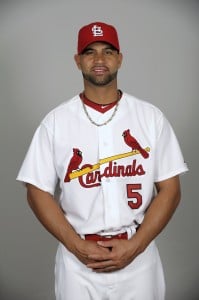 St. Louis Cardinals first baseman hit another career milestone tonight when he tallied his 2,000th career hit in a 9-2 victory against N.L. Central division rival Chicago Cubs.
Pujols already has over 1,200 career RBI's and over 430 home runs.
I once had a chance to talk to Pujols while working on the FCA book Excellence. In that conversation, Pujols talked candidly about his strong Christian faith and his commitment to serving the needs of others through his Pujols Family Foundation.
"I've been saved for over 10 years and I've seen how Christ has changed my life, how God has worked in my life and in my family," Pujols said. "Now, through Christ, He has shown me that it's not about Albert Pujols. It's about Him. It's about helping others.