Click "Like" to share this with your friends!
No one had Auburn on top of the 2010 preseason college football rankings. But by the end of the season, everyone did.
For head coach Gene Chizik, it was an incredible year that saw his program come under fire from both media members looking to cast doubt on quarterback Cam Newton's eligibility status (Newton was ultimately exonerated of any wrongdoing) and a brutal Southeastern Conference (SEC) schedule that included slugfests against Alabama, Georgia, Arkansas, LSU and South Carolina, and culminated in a 22-19 victory against Oregon in the BCS National Championship Game.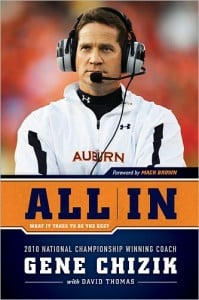 Chizik writes about the 14-0 season in his new book All In. He also talks about the tough times he faced while coaching at Iowa State and how those challenges strengthened his faith in God. Inspiring Athletes caught up with Chizik by phone recently and in part one of that conversation he talks about Auburn's incredible championship run, how faith impacts his coaching and his admiration for Heisman Trophy winner Cam Newton:
Bonham: Was this book directly inspired by the 2010 season or were there some things you had on your heart that you wanted to get out eventually and this just happened to be the right timing?
Chizik: I thought it was a good time. It's a book about football, family and faith and obviously the journey we had with our football season, it's got some interesting behind-the-scenes looks at things with our team last year. It talks about the family part of it, the team-building part, which is extremely important to us, and some things we did behind the scenes there. And then it talks about our faith as well, which is extremely important. Those are the three most important things in my life because I do them all every day. I just thought it would a story that you don't have to be a football fan to read. There are a lot of other lessons in there with the universal message of hope and encouragement for your own 5-19 season of life.
Bonham: When you were hoisting the BCS Championship Trophy, were you thinking about the distractions you faced during the season and the detractors who said you didn't belong there or do you even remember?
Chizik: No, I remember. As I was getting ready to lift it up, I was thinking how special it was for the Auburn fans who had waited 53 years for that moment and the so many dedicated members of the Auburn family and how the players and coaches worked so hard and how much they'd overcome. I was thinking what a great moment it was for everybody.
Bonham: It seems like Christians in the sports world are beginning to deal with some backlash that comes from being outspoken about their faith. Do you feel any of that and how does any potential criticism impact you when those opportunities come your way?
Chizik: You know, everybody's got their own opinion and everybody's got their own things that they're interested in. I'm not afraid to express the importance of the faith in my life. It's just that simple. Some people may like it. Some people may not. And I understand that. It's just like a football game. Some people may like the result of it and some people may not, even if you win. But again, I'm not afraid to say the things that are important in my life, and that's one of them.
Bonham: How do you personally handle those opportunities to talk about your faith in the public arena?
Chizik: When I start thanking God, I'm thanking Him for the platform He's given me to lead, the platform He's given me to be in situations where I have been able to overcome insurmountable odds and where I've been able to express to a team the importance of faith and believing in each other. God doesn't have any favorites. I said that in the book. He doesn't care whether anybody wins or loses. When I say that, I'm coming from the standpoint of how blessed I feel for having that particular venue or platform to be able to be a part of something so deep.
Bonham: What's a specific example of how your faith impacts the way that you coach?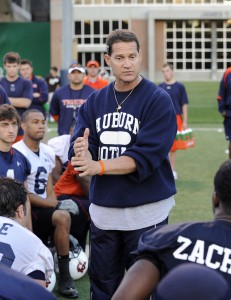 Chizik: I don't know that I have specific examples but it dictates the way we treat the players. It dictates the way we mold these young guys in terms of teaching them the dos and the don'ts and the rights and the wrongs. It's so important for these young guys to learn that in order to help them as they leave four years later so they can understand the how to be successful down the road. So it's just something that we try to do to the best of our ability and live out on a daily basis and impart to our players on a daily basis. It's not anything where we're trying to push any type of faith situation on them, but we're just teaching them what it looks like to live a good life—the kind of life that's going to give them the opportunity to be successful.
Bonham: You seemed to go out of your way to defend the Cam Newton's character. What was it that you saw in him that maybe the fans and the media didn't get to see?
Chizik: He was a great young man and I was around him day in and day out for a long period of time. I saw everything that he stood for and the way that he carried himself. He was a great teammate. He wasn't afraid to express himself. With everything he's been given, he believed that it was given to him (by God) and that he was blessed. He wasn't afraid to say that. So just day in and day out, people didn't get to see the same side that I did. And what you see is what you get from him—that big smile, that entertaining personality. That's who he was.
Click HERE for part two of the Inspiring Athletes interview with Gene Chizik.