Click "Like" to share with your friends!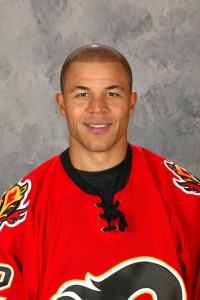 In 14 seasons, Iginla has appeared in six All-Star Games, led the league in scoring once and set Calgary records for goals, points and games played. On the ice, he's also known as one the NHL's fiercest competitors.
But when the Calgary Flames right wing unlaces his skates, he is perhaps just as notorious for being one of the game's nicest guys. Iginla participates in many community events and donates $2,000 to charity for every goal he scores. In this interview, he talks about his unique upbringing, being black in the NHL and how a troubling question drew him closer to God:
Chad Bonham: You've won two Olympic gold medals for Canada, but I would imagine that first one at the Salt Lake City Games in 2002 must have been pretty special since it broke a 50-year drought for your home country.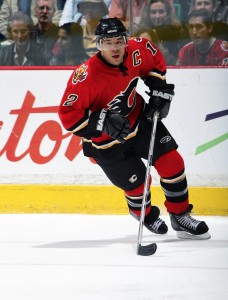 Jarome Iginla: That's one the best experiences I've had in hockey. I got a chance to play with Mario Lemieux and Steve Yzerman and Joe Sacik. It's a big adjustment. You go from playing against them to seeing your jersey hanging in the same room as theirs. It was difficult not to be in awe. Then we ended up winning the tournament. I remember the first day showing up and seeing all those jerseys hanging and seeing mine over in the corner. I was one of the younger guys and I had a makeshift area because there weren't enough lockers. But it was a huge thrill and I think I probably took a picture or something.
The gold medal game against the U.S. team probably the most exciting game I've been a part of. It was so fast. The fans were so passionate. Half of them were American fans and the other half was Canadian. They were going at it the whole game. It was such a good game. You get on the ice and go as hard as you can. You don't have time to be nervous. You get off the ice and you're nervous again because you're watching as a fan. You want to win the gold medal so bad. It turned out the way we wanted it to turn out. It was every emotion—nervousness, excitement and adrenaline—all in one game.
Bonham: Tell me about your unique upbringing.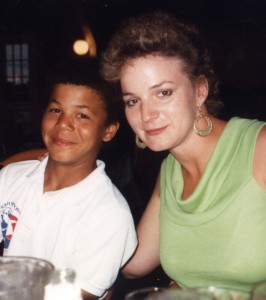 Iginla: My parents divorced when I was one year old. (My mother has) always been Buddhist so that's a little unique. Growing up I didn't have a lot of other friends that had Buddhist parents. So, yeah there was (some confusion). My mom was very good about it. She was very open. In that area I had a lot of questions because (Buddhists) do believe in different things. She didn't force it on me by any means.
Bonham: When did you first start to get serious about your Christian faith?
Iginla: My dad was raised Muslim but became a Christian after moving from Africa to Canada. I've always believed in God but I remember one time I was traveling on a juniors hockey trip and my roommate asked me, "What if there is no God? What if you die and it's just black?" I just kept telling him, "No, there has to be a God!" But he got me thinking and it actually scared me for a little bit. I'd never really thought about it that deep. It was just from what I'd read. I'd never thought about it personally. So that bothered me and I tried not to think about that for a while. About a year later, I went to my dad to talk about it. He told me I should ask God to take my fears away. If I felt peace after praying, I would have proof that God exists. That's probably my defining moment. I'm peaceful with that (question) now. That was probably the most bothersome question that I can ever remember asking myself. When my dad told me that, it was probably the start of my own personal relationship. My dad has always been the biggest influence on my faith.
Bonham: As one of the longer-standing black athletes in the NHL that has less than 30 currently playing, do you feel like a trailblazer for others pursuing opportunities in professional hockey?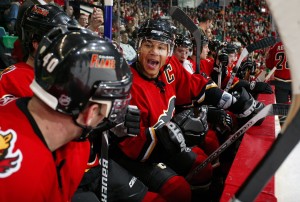 Iginla: When I grew up, I was the only black kid on my team. I was aware of that. I really was. I was very fortunate. My teammates were always great. But sometimes there'd be a small incident here or there with another team or with some parents in the crowd. Some kids would say, "Why are you trying to be in the NHL? There's no black players in the NHL." I remember those questions back then and honestly, it meant so much to me to be able to say, "Oh yeah, there are black players in the NHL." Grant Fuhr at the time was starring in Edmonton and winning Stanley Cups and he was an All-Star. Then I did try to pick out as many black players in the NHL so I could have somebody. I watched Claude Vilgrain who played in New Jersey or Tony McKegney. I am proud to be a black player in the NHL. I know how much those other guys meant to me so maybe there's kids that are having similar questions asked of them or maybe they're having some tough times. It would be an honor if I was at all a role model for kids that want to play in the NHL.