Hit "Like" to share with your friends!
THROWBACK THURSDAY: Darrell Waltrip
Darrell Waltrip is not just one of NASCAR's living legends. He's a cultural icon. Over a 29-year career, the patriarchal figure won three Cup championships, 84 Cup races (including 1989 Daytona 500) and 13 Busch (now Nationwide) Series races. These days, he's equally famous for his work on Fox Sports and the Speed Channel as a race analyst and the creator of such recognizable phrases as "Boogity, boogity boogity! Let's go racing boys!"
Did I mention his role as announcer Darrell Cartrip in the Pixar classic Cars (and its forthcoming sequel Cars 2)? If he wasn't a household name before, that surely puts him over the top. Still, Waltrip would much rather be known for some other things: His life as a devoted husband, father and follower of Christ.
I had a chance to sit down with Waltrip in his motor coach at last October's race in Kansas and here's what he had to say about the next generation of Christian drivers, the story behind Motor Racing Outreach and his unique relationship with the late Dale Earnhardt:
Bonham: What are your thoughts on some of the young drivers who are becoming more vocal about their Christian faith?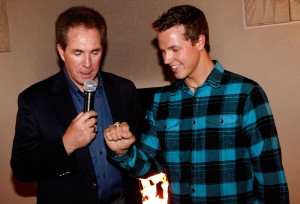 Waltrip: At some point, we've all realized there's a lot more in life than just winning races. I hear that a lot. As I was becoming successful, I'd listen to other athletes and they'd say, "Well I had it all, but there was something missing." There's always that, "There's something missing." It's that void you have in your life when you don't know the Lord. You're real selfish and everything is focused on you and how you feel until you realize there is something missing and that's your relationship with Jesus Christ. It takes time. But I hear some of these young drivers like the Allgaier kid, Justin. He's a strong believer. Michael McDowell is another strong believer. It's the same thing with the two Childress grandkids, Austin and Ty (Dillon). When Austin won the race at Vegas and got out of the car and said he wanted to thank the Lord. That's exciting to me because these are young men. I didn't think about that until I was pretty far down the road in my career. I didn't think about giving the Lord any glory at all. It's exciting to me when I hear young men in this sport that give the Lord the credit for their success.
Bonham: What do you know about the historic and longstanding connection between NASCAR and the faith movement?
Waltrip: My wife (Stevie) and I decided we were going to start a Friday night Bible study along with Lake Speed and his wife Rice (pronounced Ree-suh) and Bobby Hillin and his wife Kim. We started praying that the Lord would bring us someone that would be an ordained minister that was credible and someone that would be a good representative of a ministry. Lo and behold in our praying, the Lord brought us Max Helton. Max was out in California. In 1987 he came to a race at Riverside. Stevie was in the car reading a book and he came over and pecked on the window and asked if he could visit with her and he told her that the Lord had called him to move back East and start a racing ministry. We were blown away because this is what we'd been praying. That's how we met Max. Eventually he moved to North Carolina. He had a church out in California. He had a wife and children. It was a big leap of faith for him. But that's always what he'd wanted to do and what he felt like he was called to do. He moved back and helped all of us start Motor Racing Outreach.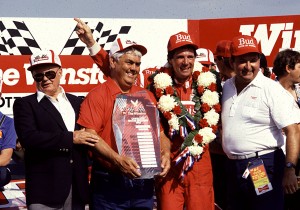 That was the beginning of what we have today. Everybody loved Max. He was a great guy, a great teacher. He walked up and down the coach lot and he'd knock on the door, come in and sit down and ask for some ice cream or he'd ask what was going on or if he could pray with you. He created what he called a hangout ministry. At the track you just hang out. His vision was that when you're at the track, you just hang out with the guys, and when you have the opportunity you give a profession of faith or talk about the Lord. He really is responsible for the ministry that we have today. Then the six of us created a board and raised funds. I went to NASCAR and introduced him to Dick Beatty and Les Richter and Bill France and those guys and told them, "This is the guy we want to represent us as a chaplain." They said, "As long as the drivers want you here, we want you here." That was the beginning of Motor Racing Outreach.
Bonham: From a ministry standpoint, isn't NASCAR a completely different environment than most other sports?
Waltrip: I think overall, one of the mistakes that has been made with this sport is when you try to make it like all the others. It's never been that way. It's unique in a lot of different ways. It's 43 teams on the field at one time. The ministry is the same way. This is a Southern sport. It's a Southeastern sport. That's where it grew from. That's the Bible belt. Most drivers have always had their wives and their kids and everybody at the track with them. So it's a different environment. This has usually been a core group of guys that are pretty stable in their lifestyles. They're family men. The opportunity to worship and to have a ministry has been a whole lot easier in this environment than it would be in any other professional sport I can think of. Plus every guy here for the most part, even guys that aren't strong believers, they still like to know that there's a chaplain on duty. There are people around that can help you, pray with you and witness to you. If something happens and you're in the hospital, it's good to see somebody that knows the Lord standing beside you. It's a little bit different environment than you'll find in any other sport and I think that's why the ministry has been so successful over all these years.
Bonham: And this isn't by any means a sanitized environment either, is it?
Waltrip: There's nothing pretentious about this crowd. Not at all. What you see is what you get. Guys that are strong believers, they still smoke and drink and like to have a good time. But if you look at what MRO has been able to do, our presence here every week with the community center, the Bible club for the kids, I mean it is truly like having a church at the track. And all of us miss going to church. I can remember when I first started driving. Stevie has always been a strong believer and she hated it because we were always at the track on Sunday and away from our home church. That was another motive for us to create an environment with MRO to where it would be like your home church so that on Sunday when the drivers meeting is over, we have chapel service and we sing, we pray, it at least had that feel of going to church. You didn't feel like a total non-believer because you didn't even try. The Bible club and everything we've done with the kids over the years, there have been kids who have gone back to their motor coaches after the race or on their way home and led their moms and dads to Christ because of what they learned in Bible club. Kids would really put their moms and dads on the spot.
Bonham: As other sports have gotten away from public expressions of faith and now even high schools have shied away from things like pre-game prayer, do you ever worry that the political correctness of our society is ever going to catch up to NASCAR?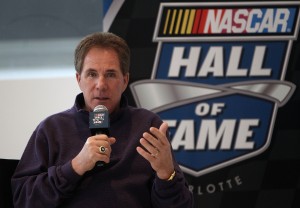 Waltrip: One of the things about MRO is that we're very low-key. We're not out here beating on doors, toting our Bibles around. We're very low-key. We're very laid back. We're here and everybody knows we're here, and if you need us, that's what we're here for. But we're not out promoting. Our chaplains go through the garage and most of the drivers know the chaplains and they know who is with MRO and who isn't. If they need something, then they will ask. We let them know about our Sunday service. We let them know about any Bible studies. Certainly everybody knows about the family community center. We try to blend in. We're not here to make a "look at us" statement. We never have been. That's never been who we are because we do understand and we do appreciate the fact that we're able to mingle in the garage and do what we do without a lot of problems.
Bonham: And what about more public things like the pre-race prayer? Will that eventually become a problem for NASCAR?
Waltrip: I don't know why it would be unless somebody just wanted to create a problem. Most people just realize that's who we are. This is who we are. That's what I like about our sport and our leadership. If you don't like it, don't come. This is what we do. This is the way we race. This is the way we officiate. This is the way the sport is run. This is who we are and if you want to be a part of it, we're glad to have you and we want to have you. But whether its drivers, owners, crew chiefs or crew members, don't try to come in here trying to change us.
Bonham: So ultimately is the reason for NASCAR strong commitment to the faith community simply because of the sports roots?
Waltrip: Yeah. Definitely. Definitely. It's a tradition. These are the things we've always done. We've done them 60 odd years now. It's worked just fine up to now and it no reason it shouldn't continue another 60 years.
Bonham: Where else would you be able to see a guy like Morgan Shepherd do his thing with the Jesus car?
Waltrip: Yeah. He's 69 years old and still out there trying to make a living.
Bonham: And again, where else could you see such a strong public expression of faith in the sports world?
Waltrip: Well, you've got Tim Tebow and what he did in college football. There are places where people seem to accept it and say it's okay and there are other places where people are saying, "What's the deal here? What's going on?" This is a dangerous sport. If you're going to have a relationship and walk pretty close to the Lord, this is a pretty good sport to do it in. Up until the last few years, you could get killed doing this. I've had a lot of people tell me, "I'm just not ready to give it up. I'm not ready to do that yet. I'll (accept Christ) when the time comes." I always think of a couple of examples and Dale Earnhardt is one of them. Do you think in a blink of an eye he had time to say, "Lord, forgive me?" At 180 miles an hour, he wasn't thinking about that. I think everybody in this business knows that you need to keep your house in order because you never know who's going to knock on the door.
Bonham: Larry McReynolds told me a story about your wife putting a scripture in your car for every race and how Dale Earnhardt started asking for her to give him a scripture too. What was the scripture she gave him the day he died?
Waltrip: It was Proverbs 18:10. "The name of the Lord is a strong tower and a rock. The righteous will run to it and be safe."
Bonham: And he had really come to expect a scripture every week.
Waltrip: Oh yes. He insisted on it. He'd get out of his car and go looking for Stevie if he didn't have it.
Bonham: Was that a surprise to you?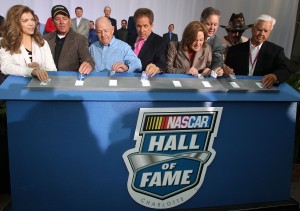 Waltrip: It probably would surprise a lot of people, but there was a side to Dale that he kept to himself. He didn't want anybody to think he was a softie. He was "The Intimidator." There was a side to him that he didn't let a lot of people see. My wife and he had a great relationship. She prayed with Dale. Dale and I prayed together a lot. We were competitors and we competed against each other as hard as anybody could compete, but we still had a great deal of respect for each other.
Bonham: You guys got after it pretty good.
Waltrip: Oh yeah. We had our moments.
Bonham: People probably thought you hated each other.
Waltrip: I always like to say we were "frienemies." We were friends part of the time, and enemies part of the time. When we were friends, we were really good friends. When we were enemies, we were good enemies.
Bonham: Is the danger of the sport the other X-factor as to why drivers are so dialed in to the need for faith in their lives?
Waltrip: Yeah. The last few years they've made the cars so much safer. The tracks are safer. Guys are getting' shaken up now and then. But up until 2001 when Dale got killed, you could get killed in one of those things and we all knew that. Every time you got in that car, there was no guarantee you were going to get back out. It hasn't been like that so much lately. That still doesn't mean guys don't feel like they need to have a profession of faith. I'm just saying there's a bigger comfort zone in driving these things than there has been in the past. Getting hurt is part of it, but the other part is performance, being on the right team, keeping your job, keeping the people around you happy. There's a lot of pressure, and that pressure sometimes will get to you if you're not careful.
Bonham: So why then do these guys ultimately show up for chapel every Sunday?
Waltrip: For the most part, I think its encouragement. If your down and you're struggling, you need to hear those words of encouragement. If things are going well, you want to be sure that you're doing what you should be doing biblically. That's one thing that makes this community strong. It's how we do encourage each other and how we do lift each other up and how if there's tragedy, everybody rallies around each other. Spiritually, that really helps us all bond closer together.
Come back tomorrow for the Friday Feature with St. Louis Cardinals MVP and All-Star first baseman Albert Pujols.