Hit "Like" to share with your friends!
FRIDAY FEATURE: Torii Hunter
Often referred to as "Spiderman" by fans and in the media, Los Angeles Angels outfielder Torii Hunter has legitimately earned the superhero nickname for his uncanny ability to climb walls and rob power hitters of would-be home runs. Need more proof? Look no further than his nine consecutive Gold Glove Awards and his four All-Star Game appearances.
Hunter's no slouch at the plate either with over 1,000 RBI's, over 1,700 hits and 266 home runs and counting. But even more impressive is his steady faith that guides him to make positive decisions on the field inner cities and his unwavering commitment to inner cities through the Torii Hunter Project Education Initiative. Here's what Hunter had to say when asked about his core beliefs and how they impact his actions: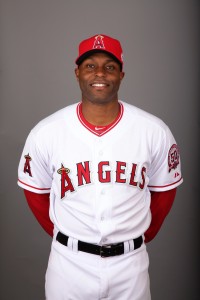 Bonham: What circumstances led you to a relationship with Christ?
Hunter: I was raised in the church by my grandmother who made sure we went to Sunday School, read the Bible and went to church every Sunday. Every night we read Bible stories before we went to bed. My mother also made sure we stayed involved in the church and the things of God. My relationship with Christ came about through that and the influences of my mother and grandmother helped my faith to grow.
Bonham: How does your faith define you as an athlete?
Hunter: With me being a Christian, I always think about what would Christ do in any circumstances. When I think about Christ's life on earth, He worked hard. He was a carpenter. Christ lifted up his teammates, the disciples. Christ was always victorious. Christ left it all on the field. He died on the cross. And Christ always had a passion for whatever He was doing. That's how I try to define myself as an athlete. That's the example I try to follow.
Bonham: How does your faith help you deal with the highs and lows of the game?
Hunter: My faith is what makes me strong. Without faith, there are only low times. With faith, I know that everything will be taken care of. Even the difficult times become learning experiences to help make my faith stronger. And when everything is going good, that's when I know God has rewarded me for my faith. When I rely on my faith, I know God wants to reward and bless me but not because of some great act that I did but because of who He is. And I have the faith that even at my lowest points, there will come a silver lining through faith.
Bonham: What do you want others to learn from your example?
Hunter: I want them to know that I try to walk like Christ in my life. If I strike out, I don't curse, or throw my bat or hit things back in the dugout, I try to quietly just put my helmet back. I may be very upset but I try to control myself. Whether I'm down or whether things are great, I try to stay the same person all the time. I want my teammates to see that I'm following Christ. But, I'm also human, so there are times I slip and make mistakes but I know Christ forgives me.
Bonham: What are some passages in the Bible that inspire you?
Hunter: My favorite verse in the New Testament is John 3:16. As a Christian, that's all you need to know. But my favorite book in the Bible is always Proverbs because it's where you can find wisdom for no matter what you're going through. It hits me every time I read it. I've always read Proverbs regularly because it helps me deal with what's happening every day in real life.