Hit "Like" to share with your friends!
Back home from Fort Worth, Texas, but not before getting interview time with some of the PGA's finest during the practice rounds and Pro-Am at the Crowne Plaza Invitational.
Today, it's a short Q&A with 22-year old PGA star Rickie Fowler who has yet to win a tour title, but has already made a big splash as a second-year full-time pro. The 2010 PGA Rookie of the Year is doing his best to live up to some high expectations that follow an impressive amateur career and an appearance on the 2010 U.S. Ryder Cup team.
Just look around at any given golf tournament and you'll see what I'm talking about. Young golf fans follow him around the course, many of which sport his signature Puma brand flat-billed hat. Fowler is aware of it too. Here's what he had to say about being a role model and dealing with the heavy weight of high expectations: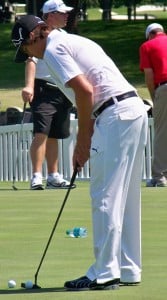 Bonham: How does it feel to be an inspiration to the next generation of young golfers?
Fowler: It's great to be somewhat of a role model. I want to be a positive and good role model and lead by example and try to do the best I can. Playing good golf definitely draws attention but I want to have a good attitude on the course and do the right things.
Bonham: Does that attention challenge you to play the game with integrity and live your life away from the course the same way?
Fowler: Yeah, I'm definitely conscious that I'm being watched at all times. I want to be a good role model. I don't want to be a screw-up or anything like that. I want to do the right things and set the right example.
Bonham: How much encouragement and strength do you get from the weekly Bible studies you attend while out on the tour?
Fowler: (It helps) to be around good guys. I just bumped into Ben Crane over here, one of my good buddies out on tour. (It helps) to have guys like that to hang around and guys like Bubba Watson. We recently spent a little time with Tobymac (at The PLAYERS Championship Bible study). It definitely helps to be around positive guys and guys that are out trying to do the right thing and it encourages me to do my thing.
Bonham: Do you feel any pressure knowing that you're a younger player to whom the veterans are trying to pass the torch?
Fowler: Yes and no. There are a lot of good young players right now. Obviously I'd like to step up and be that guy. I need to play a little bit better. I definitely would like to be that guy they pass the torch down to, but I have to keep playing well, step up my game a bit and ultimately get my first win out of the way.
To learn more about Rickie Fowler, check out his official website by clicking here.
Next Monday, we'll have a weekend sports wrap-up, plus later in the week be looking for interviews with PGA golfer Kevin Streelman and actor Ryan Merriman, star of the inspirational sports film The Fifth Quarter.