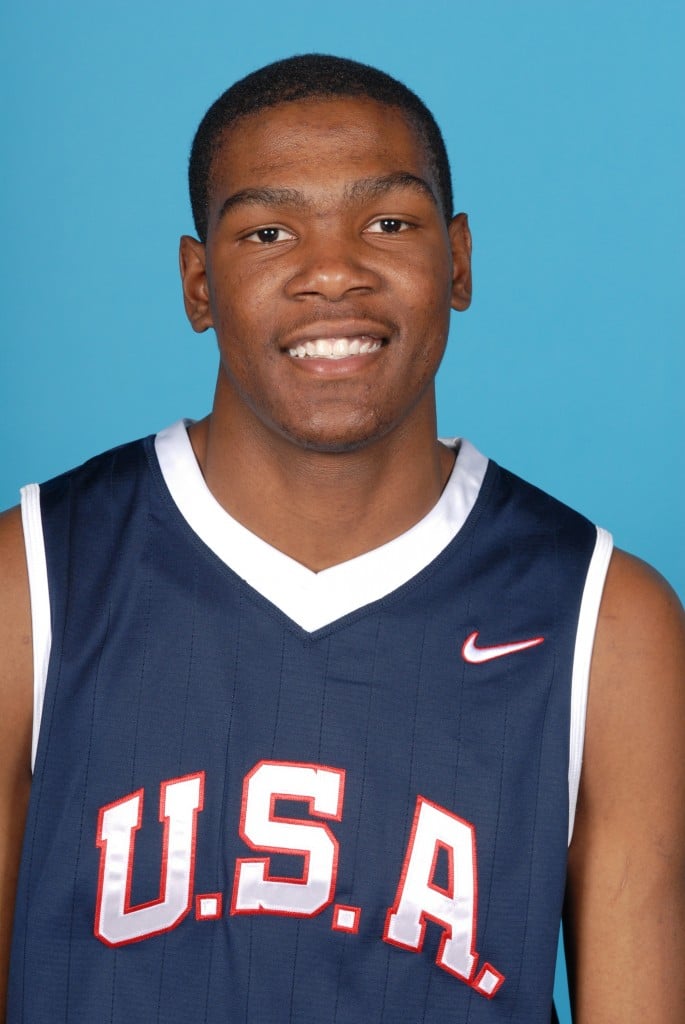 Ever since Kevin Durant forewent his final three years the University of Texas to enter the NBA draft, he has experienced a meteoric rise that few experts labeled a sure bet. Durant won NBA Rookie of the Year honors in 2008 and the two-time All-Star most recently racked up back-to-back scoring titles (2010, 2011).
As he leads the Oklahoma City Thunder through another amazing playoff run, Durant might have to pinch himself as a reminder to remain humble. Onlookers might need to do the same when observing such a talented young man resisting the immense temptation to be like so many of his peers and cave to that natural inclination towards self-serving behavior.
Just prior to the season, I had a chance to sit down and talk to Durant about his career, his family, his faith and his desire to put God and others first.
Chad Bonham: What was it like playing in the World Championships last summer?
Kevin Durant: It was an unbelievable feeling; first of all, to play for your country, and to represent your country and your family, and the city and the state that you come from. Words can't explain how excited I was when the gold medal game was over and we'd won. It felt like we'd won the NBA championship. It was a great feeling to represent everyone here in the USA and to come together with that group of guys and do something that nobody thought we could do with the team we had.
Bonham: As a former University of Texas player, do you catch any grief from the Oklahoma City fans who predominately support Oklahoma and Oklahoma State?
Durant: I've gotten used to it (laughs). They still boo me a little bit when I wear my Texas gear around. I always talk about my Longhorns. If we have a game the next day, I know they do a great job of cheering for us. I try to make sure people know I bleed burnt orange.
Bonham: What is the foundation of your strong faith?
Durant: It comes from my family. I went to a Christian school. I was always intrigued simply about how we got here. Why do we do the things we do? Who made us like this? My mom always sat me down and talked to me and I have spiritual teachers that help me out. I'm not perfect at all by any means. I've got a long way to go to become closer to the Lord but hopefully I can continue to stay on the path. I might take a few steps forward and take a couple steps back and take some steps forward, but I want to get better.
Bonham: How has that progressed over the years?
Durant: When I was young we went to church a lot but we didn't go as much when I grew up and got into middle school and high school. There's no excuse why I don't go as much now. I should go more than I do. But in my defense a little bit, I go to chapel before every game and I have a spiritual coach I talk to and he's helping me out a lot in my walk with the Lord. My teammates here do a great job too sticking together and always praying for each other. I always try to get better in my walk.
Bonham: I've heard from some teammates and others around the organization that the players really follow your lead, particularly when it comes to attending game day chapels. Is that something you consciously promote?
Durant: It wasn't even me that started that. It was (former teammate) Kevin Ollie. He's unbelievable. He got everybody going and wanting to learn more. I was just one of the guys who was trying to follow his lead. He was a big teacher in helping me do that and making me feel more comfortable in my faith around other people and being able to pray for other people and pray out loud and things like that; take those baby steps. I've been trying to do a better job.
Bonham: Are you encouraged to see a greater number of Christians—guys like Derek Fisher, John Salmons, Michael Redd, Kyle Korver and Blake Griffin—becoming more vocal about their faith?
Durant: It's unbelievable to know. It's good to see other people walk with the Lord too. We do so much in this league. A lot of people don't know how they got these gifts and how they're portraying them on the floor. It's always good to let people know where all this stuff came from. To see other players in the league doing the same thing is a joy.
Bonham: People always talk about how down-to-earth you are. What's your secret to staying humble in a world where it's all to easy to get caught up in the hype of fortune and fame?
Durant: It's tough man. I can't lie. I can't lie about that. But I always kind of pinch myself and say that any day this can be gone. In the Bible, (it says) the Lord exalts humility and that's one thing I try to be all the time—when I'm talking in front of people or when people tell me I'm great, I (remind myself that I) can always be better. I always work on what I have now. I've just got to be thankful to the Lord for what the gifts He's given me. My gift back to Him is to always be humble and to always try to work as hard as I can. I've got to continue to be that way. I know that if I try to get a big head, my mom is going to do a great job of bringing me back down to size. I have the best of both worlds with the coaches we have here and my parents and my family doing it back at home. I'm in pretty good hands.
Read more about Kevin Durant in the brand new book Glory of the Games. Each chapter tells the story of an Olympic athlete (i.e. Shannon Miller, Tamika Catchings, Michael Chang, Dave Johnson, Ryan Hall, Jarome Iginla, etc.) and how a particular biblical principle has helped them along the way on their journey to elite status.