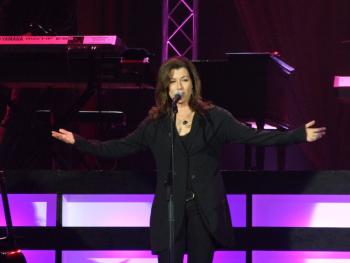 Amy Grant is still on the road to recovery, but her faith is guiding her along the way. In a recent interview with "Today," Grant spoke of her faith, saying, "It's helped me not be afraid. And just to go, however this turns out, I believe I'm held by love."
In July 2022, Grant fell from her bike and was unconscious for almost 15 minutes after running into a pothole. Grant's representative said she was wearing a helmet at the time of the accident. Grant had to postpone some tour dates as she recovered. Fox News Digital spoke with Grant in December after she returned to the stage for a Christmas tour.
At the time, she said, "Last week was my first time back on stage, and I can't think of a more gentle way to get back into the limelight than doing a Christmas concert with my dear friend Michael W. Smith." She continued, "I was nervous that first day. I forgot the lyrics to the songs that I wrote. I'm just on a healing journey, but this time here. You know, love and kindness is also very healing, and I'm not kidding – I feel filled up from head to toe."
In addition to her faith, she also credits her husband, Vince Gill, with keeping her spirits up through her ordeals. "He has just been so patient," Grant said. "Vince has a kind of way of grounding the space that we're in even without saying a word. I think early on, I said, 'What if I'm different, what if I'm not the same?' and he said, 'Hey, every day we wake up a little different, and we love each other, and it's good.'"
She added, "I feel like my old rascally self." On "Today," Grant admitted she's still struggling to remember her song lyrics and has used a teleprompter on stage. Speaking on the accident's immediate aftermath, she said, "I wrote this long book in this spiral notebook, and I was just writing to remember. Writing, making sure I could remember everybody's name in my family, which I couldn't at first."
Recovering from the accident wasn't the only hurdle Grant recently faced. She also had open-heart surgery in 2021, and she told the outlet she had a cyst in her throat removed this past January. "Working with a vocalist, she said, 'What is happening in your throat? Lean your head back.' And I said, 'I know it's like I've got an Adam's apple; it keeps getting bigger.' Unbeknownst to me, I had a thyroglossal duct cyst," Grant said.
Despite the past few difficult years, Grant remains positive. "To me, it's just been a great reminder that life is dynamic, people are dynamic," she said. "Nobody's all good, and nobody's all bad. The circumstance is not all bad or all good. Even in the worst, awful worst trauma, beauty and goodness are still present."
Grant has resumed touring and is working on new music for the first time in 10 years. Her latest single, "Trees We'll Never See," will be released on March 24.