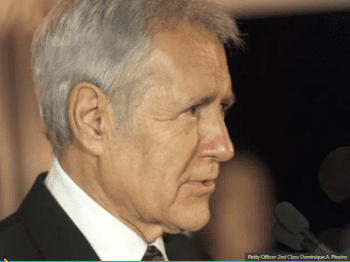 Longtime "Jeoparady!" host Alex Tribek, alongside his wife, just recently donated $500,000 to Hope of the Valley Rescue Mission.
The faith-based nonprofit organization is committed to "prevent, reduce and eliminate poverty, hunger, and homelessness."
"Alex and Jean contributed $500,000 to the charity because they believe in helping locally as well as globally," a representative for the couple said in a statement. "They have lived in the Valley for over 30 years and want to help support their community. They also believe that homeless people are just ordinary people who have had bad circumstances happen to them, and deserve a helping hand, not judgment."
The CEO and founder of Hope of the Valley Rescue Mission says that the money will be used to help build a new facility that will provide shelter for homeless seniors, a medical facility, a commissary, and a administrative space for the group.
Craft says that the donation was a big surprise, considering the company had just donated $100,00 earlier in the year. Trebek personally reached out to the organization in January requesting a tour of the facility. Shortly after his tour, Trebek made his first donation to the organization.
After making a second trip to check on the progress of the new center, Trebek presented a check for half a million dollars.
"I cannot say enough good things about just who they are as, you know, forget the donation, just who they are as human beings, and as individuals," Craft said. "So it was, it's really been a joy just to get to know them on that level."
"I have never, ever, received a check for $500,000 and I was just floored. Initially, I was shocked," Craft continued. "And then I was just overwhelmed with gratitude because I know how much we can do. The only thing that limits us right now is resources."
The new facility will be located in the North Hollywood area and is set to open in July. Inspired by the Trebek's generosity, Craft said the facilities multi-purpose room would be named in honor of the Trebeks.