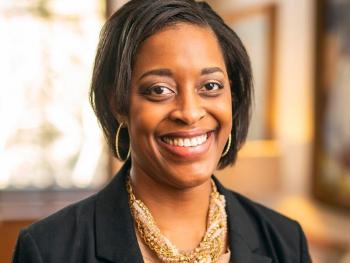 Candice Lee has made groundbreaking history at Vanderbilt University after being hired as the University's newest athletic director.
Not only is Lee the first woman to ever serve as an athletic director at the university, she is also the first African American woman to serve in the role in the history of the Southeastern Conference (SEC).
Lee was a student-athlete at Vanderbilt University. She was a four-year letter winner and the captain of the women's basketball team. She has also received multiple degrees from Vanderbilt. She received her bachelor of science degree in human and organizational development in 2000 , as well as her master's degree in counseling in 2002. In 2012 Lee earned her doctorate in higher education administration. She has held multiple positions at the university including senior woman administrator of the athletic department, associate vice chancellor, and deputy athletic director.
In addition to the many roles Lee has had at Vanderbilt, she is also a member of the SEC Executive Committee, the YWCA of Middle Tennessee Board of Directors, the 2012 Class of Leadership Nashville, and the 2012 Vanderbilt Leadership Academy.
The Madison, Alabama native will be responsible for overseeing the day-to-day operations of the athletics department, she is also the sport administrator for the football and women's basketball program.
"I am incredibly honored to lead the Commodores, and I could not have been in this position without the support of the university's leadership, our dedicated coaches and staff, and all of Commodore Nation," Lee said in a statement. "There are challenges ahead and much uncertainty about what college athletics can and should look like during a pandemic, but I firmly believe that anything is possible if we all work together.
As Lee takes on the new role of athletic director, the university also named her the school's vice chancellor for athletics and university affairs.
Lee's success both in academia and university athletics makes Vanderbilt University confident that she is the best person to lead the school's athletic department .
"My priority, and the university's priority, continues to be examining everything we can do to support our student-athletes and ensure their safety and well-being. We also continue to prepare for the future—determining and establishing the conditions our student-athletes need to compete and succeed at Vanderbilt and beyond."