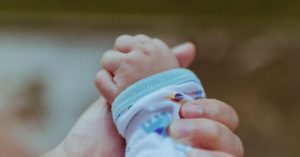 A family is boasting with joy over the recent birth of their baby boy and the story of how it all came about is being deemed a "miracle."
The woman was born without a uterus and underwent a 10- hour transplant procedure in 2018 with the hopes of being able to carry her own children. The uterus used was provided by a deceased donor, making the baby the second baby to be born in the United States from a uterus from a deceased donor.
The baby grew inside a womb the mother had received as part of an organ transplant research trial over a year earlier. The baby was the first baby born as a part of Penn Medicine's uterine transplant trial, and the eighth baby nationwide to be born to a recipient of a uterus transplant.
So far there have only been about 70 uterus transplants performed worldwide, and Penn Medicine's trial is one of few to accept donations from both living and deceased donors. One of the lead investigators at Penn Medicine said that the procedure could provide couples with another way to become parents and allows women to carry their own pregnancies.
"When you actually see the baby, it's very surreal. It was a professional and personal high," said Dr. Kathleen O'Neill, the medical director for Penn Medicine's uterine transplant program.
The mother of the miracle baby has Mayer-Rokitansky-Kuster-Hauser syndrome, which is a congenital condition characterized by the failure of the uterus to develop properly. It affects 1 in every 4,500 women and up until recently made it impossible for women to conceive and give birth naturally.
"That was a very difficult thing to hear as a teenage girl who had dreams of being a loving mother," she said. "Like many young girls, I dreamed of how it would feel to grow a baby in my womb, to feel them kick inside me, and those dreams disappeared."
Penn Medicine said that trial participants are followed for five to ten years , from fertilization to post delivery. There is a risk of rejection during the course of the procedure and because of it women with transplanted uterus's have hysterectomies after giving birth.
Medical experts have expressed concerns regarding the procedure, but the end results of the transplant and what it can do for families like this one make it impossible to overlook.The UNTIL (Uterus Transplantation For Uterine Factor Infertility)  trial is currently the only U.S. uterus transplant trial that is actively enrolling patients.
After announcing the first of its kind delivery, Penn Medicine says they have now performed two uterus transplants, and they are actively looking to do more. The doctors at Penn Medicine are hopeful that one day this procedure will become a normal option for women.
"My husband and I have always wanted to grow our family, but we knew the limited options meant it might never happen," the new mom said. "And now here we are, in spite of everything, holding our beautiful baby boy. Benjamin is a perfect miracle."