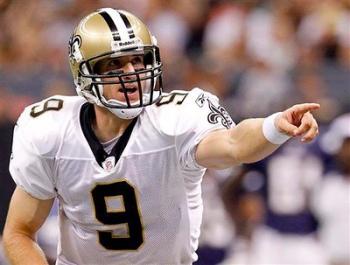 New Orleans Saints quarterback Drew Brees and his wife are teaming up with local organizations to provide 10,000 meals a day to those in need.
The quarterback took to Instagram to reveal his plan stating, "Brittany and I are committing $5,000,000 to the State of Louisiana in 2020. The priority now is helping our communities get through this tough time. "
"After considerable research and conversations with local organizations, we will be mobilizing our partnerships with Second Harvest Food Bank, Ochsner Health Systems, Walk-Ons, Jimmy Johns, Smalls Sliders and Waitr to prepare and deliver over 10,000 meals per day throughout Louisiana for as long as it takes to children on meal programs, seniors, and families in need. Let's all do our part, maintain hope, and get through this together," Brees wrote.
The news comes just a week after Brees re-signed a two-year, $50 million contract with the New Orleans Saints. He joins a large group of NFL players and teams are using their big football bucks to help with COVID-19 relief efforts in their communities.
It was reported on Wednesday that Louisiana experienced its largest spike to date in documented COVID-19 cases, averaging a total of 1,797 cases and 65 deaths.
Brees has proven over the years he is more than willing to give and do his part to serve communities. In 2003, the quarterback founded Brees Dream Foundation with the mission of "Improving the quality of life for cancer patients, and provide care, education, and opportunities for children and families in need.
He has shown his support for the Louisiana community since his first season with the Saints in 2006, following Hurricane Katrina. Brees led the team to a 10-6 record and the playoffs. In 2009, he brought a symbolic Super Bowl victory to Louisiana.
Louisiana is no stranger to the generosity Brees continues to display, and the willingness to serve the community he has become so greatly involved in. He remains an example for all to follow.