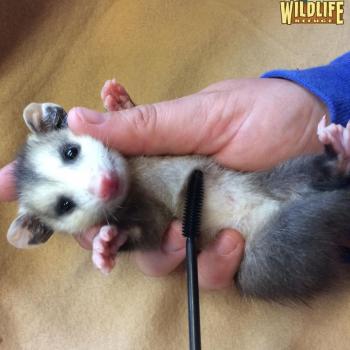 There's a fantastic way you can recycle your old mascara wands while helping out wildlife at the same time.
Appalachian Wildlife, an animal rehabilitation center in Western North Carolina, uses mascara wands to clean injured animals. Wands for Wildlife recycles old mascara wands by using them to help remove fly eggs and larva from the fur of animals. The bristles are close together and gentle to use on the injured and orphaned wild animals receiving care.
"There's nothing that is made like a mascara wand," co-founder Kimberly Brewster told CNN. "It actually makes the treatment much faster, which saves the animals from being stressed longer than they have to be."
The rehabilitation center's founder created a viral Facebook post asking people to send in their old wands. After being shared thousands of times, that post gave the organization a global platform. Wands and donations are being sent in from around the world. The refuge received so many that it started shipping them to other animal rehabbers, and is only accepting wands in February and October.
"We are sending packets to all of these places with educational material on ways that [we use the wands]," she said. "And also get feedback from them on how they're finding good uses for them."
Appalachian Wildlife is using the platform to save even more animals and to educate others on how to avoid injuring them in the first place. Wildlife experts said not to throw trash on the side of the road, even if it is biodegradable, the small animals that eat it are put in danger of being hit by cars. They also said to contact an expert before moving baby animals. Even if the animal is alone, it is probably not in danger and has a parent close by.
You can learn more about the movement on the Wands For Wildlife website.