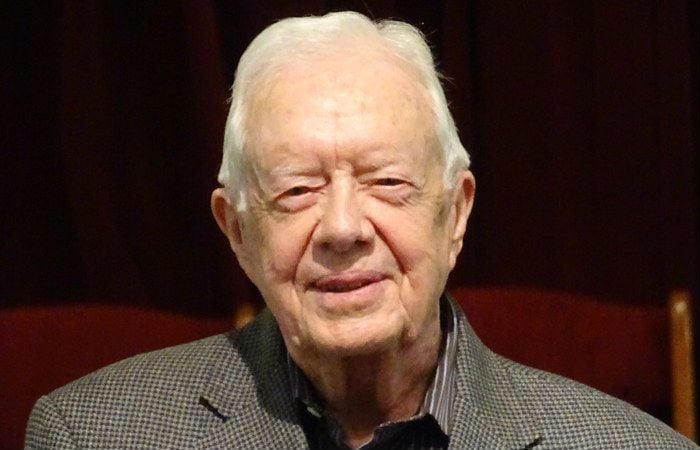 Former President Jimmy Carter didn't let his recent hip surgery stop him from returning to Sunday School.
The 94-year-old broke his hip when he fell when leaving to go turkey hunting.
He hoped he could have returned to teaching much sooner. In fact, he was eager to go back to teaching just a week after surgery but he needed more time to recover.
While his class always has hundreds of visitors, there was a major increase in attendance at Maranatha Baptist Church in Plains, Georgia where he teaches regular Sunday School lessons.
"People began gathering at midnight to hear Carter, and by 8 a.m., a line wrapped around the church despite the pouring rain," reported WRIC.
It wasn't just local who came out to see him. People from Atlanta to New York City came out to hear him and show support.
"We wanted to pay tribute for all of the work he has done," Glenda Morris-Robinson of Atlanta told AJC. "It is so wonderful to see a true servant leader. He was remarkable."
The former president requests that no one claps or stands when he walks into the foyer. When he's at church, his real focus is serving others.
Carter thanked those who came out for their prayers and well wishes.
His lesson was on John 14:15-26, "The Promise of the Holy Spirit." He talked in detail about Jesus washing the disciples' feet.
In a 2012 interview with Beliefnet, Carter shared what he hoped people would ultimately take away from his lessons.
"We have a lot of people tell me after church is over that they'd never been in church before in their lives and they came just to have a chance to see me and to have a conversation with a former President. So I know that I have many people in my Bible classes that don't know much about my faith and don't have any faith of their own."
"Then as I said we have people who are quite devout Jews who like to discuss elements of the Old Testament with me in a friendly way. I really don't know what the overwhelming reaction is but a few people tell me that they enjoy the lessons and that they have a new concept of Christianity after I teach. Most of them don't express a view because they leave after church, but they keep coming back. Like this Sunday we had a very large crowd. The church overflowed, we had people sitting in the choir loft, and had chairs in the aisles and so forth. I'm really enjoying the give and take of a free discussion of the Scriptures."
Not much has changed since 2012. He still enjoys sharing the Gospel and Jesus Christ, especially with those who don't know him.