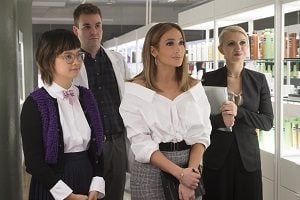 Jennifer Lopez will be taking to the silver screen once more in December 2018. Her new romantic comedy, "Second Act," will premiere on Friday, December 21, 2018. The film follows Maya, played by Jennifer Lopez, who is a 40 year old woman "struggling with frustrations from unfulfilled dreams. Until, that is, she gets the chance to prove to Madison Avenue that street smarts are as valuable as book smarts, and that it is never too late for a Second Act."
The film is said to be an inspiring story of a woman who makes serious changes to her life. It is positive, motivational and Lopez's role has been described as an "empowering, signature role that proves your dreams are always within reach." The film also taps into real concerns and comedy that come from the social media age as the firm that hires Maya is misled into believing that she is an accomplished consultant due to a fake Facebook page.
"Second Act" is currently rated PG-13 for some sexual references and a bit of language. It was written by Justin Zackham and Elaine Goldsmith-Thomas and directed by Peter Segal. It stars Jennifer Lopez as Maya, Vanessa Hudgens as Zoe, Leah Remini as Joan, Annaleigh Ashford as Hildy, Freddie Stroma as Ron, Dan Bucatinsky as Arthur, Milo Ventimiglia as Trey, Treat Williams as Anderson Clarke and Larry Miller as Weiskopf.
The film was originally scheduled to be released in November, but following "incredible" screenings, the release date was moved back to mid-December in order to avoid competing with Thanksgiving releases such as "Fantastic Beasts and Where to Find Them: The Crimes of Grindelwald." The trailer is now available online.