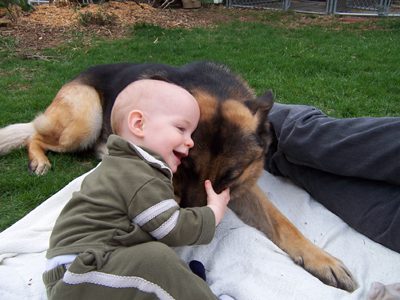 Dogs are said to be man's best friend and are known for being loyal companions and loving family members. Every now and then, however, there is a dog that goes above and beyond for the two legged members of their pack. Such is the case of the eight month old puppy, Sasha, in Stockton, California.
Sasha is the four legged member of a family consisting of Nana Chai and her three daughters. The puppy is apparently especially close with the youngest girl, seven month old Masailah. "[Sasha] is in [Masailah's] bed every day," Nana said. "They take baths together and everything."
Sasha's bond with Masailah may have saved the Chai family from tragedy. One night, after Nana let Sasha outside, the puppy went berserk. The puppy was barking, yelping and pounding at the back door. "I open it, "said Nana, "and she runs in and starts barking at me like crazy, and I was like, 'Okay, this is weird. This is not like her.'" When Nana went to investigate what was wrong, she saw a glow coming from next door. It was one of every family's worst nightmares: fire.
Nana sprinted to Masailah's room, but Sasha was already there. "[Sasha] had my baby by the diaper just dragging her off the bed," said Nana. "[Sasha was] trying to get her to safety."
All four humans got out of the fourplex with Sasha unharmed, but the unit is now unlivable. Sasha is staying with another family member until the Chai women have found another place to stay, but Sasha misses the family she was so desperate to protect. "She misses the kids and sleeping in their beds. I take the kids over there so Sasha doesn't cry all day," Nana said. "It's hard to answer the questions, 'Where are we going to live?' and 'Are we going to be homeless?' when I'm trying to figure that out as well, so right now we're leaning on each other."
Nana's sister, Christine White, started a GoFundMe campaign to help the Chai family find a new place to live. The fund will "help not only [the Chai] family but also Sasha [the] hero pup start a new life in a new home." While the search for a new home is currently ongoing, the Chai family can take heart from the fact that all of them escaped the blaze unharmed. How protective Sasha will be of her humans when they are once again reunited for good is still up in the air. It is unlikely, however, that the Chai's will protest too much against the increased vigilance of their four legged guardian angel.