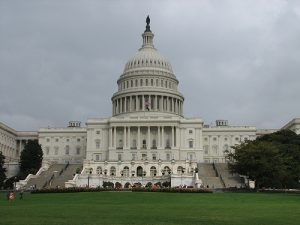 Robert Barr, an ordained rabbi of Judaism's Reform tradition, is running for Congress. If Barr is elected, he will be the first rabbi to ever serve in Congress. If elected to the US House of Representatives, Barr hopes to bring people together. "Politics has been used to divide our nation," said Barr. "But we can use it to unite, heal and restore our country."
Barr is running against Republican Steve Chabot in Ohio's First Congressional District. Chabot has served as the district's representative for 20 years. As Barr comes from outside the system, Barr feels he can bring a commitment to service and community to Congress that seems to have been lost. "I never thought Congress could be so broken," said Barr.
Rabbi Robert Barr is the founding rabbi of both OurJewishCommunity.org, one of the largest online Jewish congregations, and Congregation Beth Adam. He served on the boards of the Jewish Federation of Cincinnati, Jewish Family Services and on the Ohio Advisory Board of People for the American Way. Barr feels that his experience as a rabbi will serve him well in Congress. "I've served in this community and know it well," said Barr. "My work is helping people through tough times. Whenever I see problems, I bring people together to find solutions that work. And we need that now."
Barr is not looking for a career in politics. If elected, he plans to push to end gerrymandering and reform campaign financing, after which he may return to his current roles. Barr frequently presents on ethics to university students, medical residents and the Cincinnati Bar Association. He also lectures on theology, religion and culture as part of the continuing education program at the University of Cincinnati.
While Barr could be the first rabbi to serve in Congress, he is not the first rabbi to make a bid for a congressional seat. The television rabbi Shmuley Boteach ran in his New Jersey district in 2012 and, before that, Dennis Shulman ran for a New Jersey seat in 2008. Both Boteach and Shulman lost their campaigns for Congress, but Barr has a fighting chance. His opponent, Steve Chabot, lost to a Democrat in 2008 before reclaiming his seat in 2010.
Barr claims his Congressional bid is coming from the same "commitment to service, problem solving and community" that drove him to become a rabbi nearly 40 years ago. Barr had considered seeking office before but had not felt pushed to act until recently. "In the last election," said Barr, "I was more and more disturbed by the divisiveness. I felt I had a responsibility to do something about it…I have a responsibility to run now." If elected, Barr plans to improve schools and ensure every community has clean air and water in an effort to give every Ohio family a chance at success.
Barr feels his skills as a rabbi will transfer over to politics in ways that will allow him to achieve his goals during his time in office. "Part of the job of both clergy and political leaders is to be able to have a vision and articulate that vision," said Barr. In addition to his already planned reforms, Barr is looking to bring people together. "My responsibility is to be there, listen…and work to help to create a solution," said Barr, despite working in "a culture in which people are no longer able to talk and listen to each other."
Even though Barr appears to have a decent chance at reaching the House of Representatives, he still faces an uphill climb. Sam Ronan and Dr. Laura Ann Weaver are both competing with him for the Democratic nomination and the Republican incumbent, Steve Chabot, has only lost his seat once in 20 years of service.
Barr, however, is not intimidated by the odds. "I love to talk," Barr said. "I'm willing to talk to every voter in the district, and…those who may not have thought of voting for me will decide I'm the one they can trust." Whether Barr will achieve his prediction of support remains to be seen, but his congressional bid could keep him in the spotlight until 2020 or beyond.
Stephanie Hertzenberg is a graduate of the College of William and Mary where she received her degree in Religious Studies and Creative Writing. She currently works as a freelance writer from her home in Virginia's Shenandoah Valley.