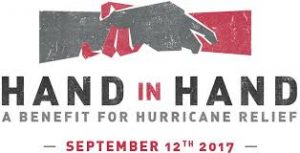 George Clooney, Julia Roberts, Jamie Foxx, Matthew McConaughey and Kelly Rowland are just a few of the a-list, Hollywood stars that have signed up to participate in a Hurricane relief telethon.
The "Hand in Hand: A Benefit for Hurricane Harvey Relief" will take place on September 12 at 8 p.m. EST on ABC, CBS and NBC and will be streamed live on Twitter, Youtube and Facebook. Country superstar George Strait will appear on the telecast in concert from the Majestic Theater in San Antonio, Texas. The telecast will originate from the Universal Studios lot, Times Square and Nashville's Grand Ole Opry.
The telethon has been expanded to extend help to Hurricane Irma victims as well. Event organizers Scooter Braun and Bun B say that they are prepared to help in anyways that they can.
"Due to the impending possibility of Hurricane Irma, the Hand in Hand Hurricane benefit has now made arrangements and is prepared to expand its beneficiaries of the September 12th telethon to also include those who may be affected by Hurricane Irma in addition to those affected by Hurricane Harvey. We are prepared to help in any way we can," organizers said in a statement, per Variety.
The death toll from Harvey has hit 63, according to CBS News. Tens of thousands of people in the southeast Texas region have been displaced from homes that were damaged or destroyed after days of torrential rain and winds.
The proceeds of the telethon will go to a range of charities that are currently helping with relief efforts for Hurricane Harvey including United Way of Greater Houston, Habitat for Humanity, Save the Children, Feeding Texas and the Mayor's Fund for Hurricane Harvey Relief.
Local organizations are also gearing up to aid the victims of the hurricanes. Two local organizations joined forces in Houston, and donations have been plentiful but say the need is still great. St. Vincent de Paul Society and Humans with Purpose, a newly formed organization, discovered each other thought social media and are now a team in the Hurricane Harvey effort.
Humans with Purpose was formed by two friends, Joe Macklin of Boardman and Tom Sanders of Coaldale, Pa., after devastation of the hurricane became known.
"I told my friend Tom if he could get the truck, I will get the donations," Macklin said. "Getting this accomplished is a real testament to the power of social media and the kindness of complete strangers."
Social media has become a powerhouse in getting aid to those who need it most. Stars like Drake have already been pledging support for the people of Texas though social media, when Harvey first devastated the region.
Kevin Hart donated $50,000 and kicked off a campaign that encouraged his friends like Kim Kardashian, Steve Harvey, Dwayne "The Rock" Johnson and Justin Timberlake to do the same for what he called the Hurricane Harvey Relief Challenge. Kardashian and her family announced in a tweet Tuesday they'd be donating $500,000 to the Red Cross and the Salvation Army. Johnson also announced a $25,000 donation in a social media post where he recalled his experience with Hurricane Andrew in 1992.
These Hollywood stars know that they have the influence to make a difference in the lives of these hurricane victims. If you want to donate, look for local or national charities around you.