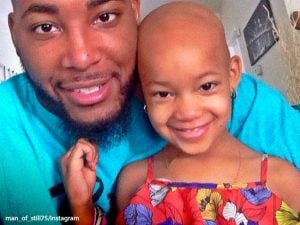 Devon Still and his daughter, Leah, are a daddy-daughter combo that just can't be beat.  You may know Devon Still from his years in the NFL playing as a defensive tackle.  He made his start at Penn State, later moved on to the Cincinnati Bengals, then to a free agent, and most recently to play for the Houston Texans until a foot injury prevented him from playing.
Still has been in the public eye for another reason apart from football.  His daughter had an unconventional addition to her childhood. She had to put up a battle with cancer starting at the age of four.  After running a fever, having loss of appetite, and complaining of leg pain, Devon sprung into action and took his daughter to the hospital. That same day he heard the words that no parent wants to hear. 
In June 2014 doctors found a tumor in Leah Still's stomach.  Leah was diagnosed with Stage IV neuroblastoma. Neuroblastoma is a rare pediatric cancer that typically only affects children ages five and younger. There are only around 20,000 cases in the U.S. per year. Leah had a 50/50 chance of survival with this diagnosis.
Devon Still knew that he had to be there for his daughter as much as possible because of those odds.  Being in the middle of football season it became hard for Still to juggle the time needed from the team and the time that he felt needed to be spent by his daughter's side.  The Bengals moved Still off of the roster. Still had said that he had been thinking of putting his career on hold for his daughter but the initial removal was a bit of a hard hit. The team still wanted to help him with all that he was going through, it was just hard for the Bengals to keep Still on the team when his heart was elsewhere. 
Being cut from the Bengals was a huge change to add on top of all that was going on within the Still family.  The Bengals executives did some research and discovered some benefits that could go along with being on the practice team.  So the Bengals moved Devon to the practice team in hopes of helping the situation. The Bengals health insurance covered for the practice team as well as the main team, meaning that Devon and Leah would still be covered throughout her treatments.  Devon Still would also still get paid $6,300 weekly.  Lastly, the practice team was less of a time commitment, leaving more time for Devon to fight alongside his daughter through her treatments.
Devon's participation didn't last for long on the practice team.  A week after being taken off the roster Still was reinstated.  The team also announced that they were going to sell his jersey and all profits would go to the Cincinnati's Children Hospital towards those fighting pediatric cancer. Devon Stills jersey raised more than $1.3 million to benefit families dealing with childhood cancer.
Devon's support for his daughter was never ending.  He was there for her through it all.  Being strong for her and making sure that she knew that her dad believed in her was his main goal.  In an interview Devon spoke about his support for his daughter but was asked who supports him through it all.  He said "The first person I go to is god. I started taking a walk of faith before all this happened and there had to be a reason why god decided make me come to him." Relying on faith, family, and friends his internal battle was made a little more bearable.  It also made it that he was 100 percent there for his daughter.
Throughout the entire battle the Still's received mass amounts of support.  Leah starred in a promotional music video with Sara Bareilles and Cyndi Lauper singing a mash up of their songs "Brave" and "True Colors" making it "Truly Brave." When the video was released it helped raise more than $500,000 for the American Cancer Society towards pediatric-cancer research.  On the same day as the video release day Leah underwent a nearly seven hour surgery to remove a tumor and all of her lymph nodes. Her battle experienced many ups and downs, at one point the cancer had reached her bones causing more complication that led into intensive treatment.
After 41 days of chemotherapy, 40 days of antibody therapy, 19 days of radiation and a seven hour surgery.  Leah was finally cancer free. Although her battle was tough Leah made it through and out of it came so many things. After the triumph, Leah and Devon started their own organization to help other families who had to deal with what the Still's had to deal with.  In 2015, the Still Strong Foundation was created.  It focuses on families dealing with pediatric cancer and helps those families by giving grants to them so they don't have to worry about non-medical bills such as mortgages and utilities.  Devon's main focus for this organization was so that it allowed families to focus on and support their children dealing with their battle.
A couple of months ago marked Leah's second year in remission. Since then she has participated in interviews and advocated as a spokesperson to those who are dealing with what she dealt with. She even finished her first year of school taking on first grade like it was nothing. She also got to be flower girl in her dads wedding. The Still's continued to give even on a day that should have been about them.  The decided to throw out the idea of a wedding registry and instead asked their guests to visit, The Knot, a forum where people could choose out of four different foundations that they could donate to.
The Still's were faced with an obstacle that so many hope to never have to deal with.  They chose faith, strength, and charity to get them through it.  Devon and Leah showed everyone that anything can happen when you don't give up.  This duo is one that people will look up to for a long time.
You can learn more about the Still Strong Foundation at their website: https://www.stillstrongfoundation.org