Guest Blog By Melissa Blackmon
Remember the days when you and your significant other talked for hours about everything, from your favorite movie to what your children's names would be? Fast forward a few years and your biggest conversation of the day might have been a message saying: "Pick up milk…c u soon…LOL."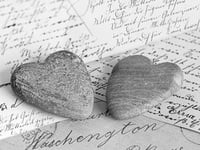 Imagine a world free of cell phones, lap tops and television and the only entertainment is a rocking chair, a battery operated candle and your husband. This is how I spent my last our summer and how we turned off technology and returned to love.
After nine years together; a typical evening for us included two laptops, our favorite show on the television and the occasional text. This summer we decided to unplug and return to the days of simple conversation. It's amazing how you can reconnect while sitting in the dark talking about lighting bugs, crickets and the stars.
Can't totally turn off technology? Then utilized it to connect with one another. Here's how you can do it too!
Stop Updating Your Status
Facebook can be fun to reconnect with the past, but it's easy to get lost in time. Focus on the present. If you can't get away from the status updates, why not send them to each other throughout the day. It will make the anticipation of reconnecting a little more exciting.
Stop Texting
You see it at the mall, restaurants and even driving– texting has taken over. I've actually seen couples text while sitting right next to each other. There are hundreds of acronyms you can use to chat but is it really that important? Why not just use this, ILU (I love you).
Cut down on Your Minutes and Turn Off Your Cell Phone.
Remember when cell phones were used for emergencies only? Return to those days and try to only be available for your favorite guy or gal. Make their ringtone your wedding song to make it extra special when they call.
Close Your Laptop
It is so easy to get lost in the world of the Internet. After all, you can find everything you have ever wanted. Love to search but can't give it up? Trying looking up this, "How to plan the perfect date night." Your love will think of it as time well spent.
Follow Your Spouse, Not Celebrities
I have personally never found time to "follow" anyone other than my husband and kids. Is it really a priority to find out what some celebrity is doing at a point in time? Why not just send a "twitpic" to each other. I find this especially useful when my husband travels. He loves to see shots of me and the kids throughout the day.
Create a Special Game
Have you ever tried to have a conversation while playing a video game? Not easily done, therefore another way technology has become a third wheel. Although if this is your favorite pastime, try playing against each other. A little competition could heat things up and winner gets to pick a prize.
Turn off the TV Unless You Tune in Together
In the days of the DVR, why not tape your favorite shows and have one designated "TV" night instead of seven. Pop the popcorn, cozy up and consider it a date night.
Email Love Notes to Each Other
Who knew email would be such a hit. One can easily get lost for hours chatting the day away. Have an email addiction? Why not send out a love letter? For some it's easier to write out your thoughts then to speak them.
Turn off the electricity…and Turn Up the Heat.
A spur of the moment romantic evening came one night when we lost our electricity. We lit up the candles, popped the cork and chatted the night away. Spread out a blanket and add in a picnic and you'll have a night to remember.
Melissa Blackmon is a freelance writer and mother of two.