We were saddened by the news of Lynn Redgrave's death at 67. She battled breast cancer for 7 years but her children said she died peacefully at home in Connecticut last night. She died just one month after brother Corin Redgrave and just over a year after her niece Natasha Richardson died as a result of a 2009 skiing accident. Our prayers go out to the Redgrave family.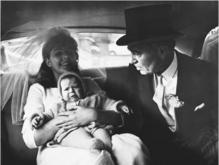 Lynn Redgrave's most memorable early role and Oscar nomination was for "Georgy Girl" in 1966 where she played a chubby gal who saw herself as an "ugly duckling" until a suitor or two inspire her to find her inner beauty. She ends up with a baby she adores and a hubby to love and care for them at the end. Those of us of a certain age can still remember the catchy them song, "Hey, there, Georgy Girl…" Years later she would be one of the most outspoken and prominent representative for Weight Watchers, reveling in her own weight loss and speaking of the importance of women taking control of their destiny when controlling what we eat.
She was a great actress and an inspiring women with an awesome wit. Here are some inspiring quotes from her during interviews about dealing with breast cancer.

"And I would urge all women to have that regular mammogram."
Lynn Redgrave
"I was very grateful that I didn't do the British stiff upper lip, but I went straight to a therapist. And she was wonderful and helpful, and I went for about two years."
Lynn Redgrave
"I suppose you mourn the loss or the death of what you thought your life was, even if you find your life is better after. You mourn the future that you thought you'd planned."
Lynn Redgrave
"I'm looking at life, and I'm putting nothing off."
Lynn Redgrave
"I don't put off any time with my grandchildren. I don't put off a thing."
Lynn Redgrave
"My entire family is (are) very resilient – very, very resilient.
Lynn Redgrave
"I used to think of myself as a piece of rubber when I was a kid because I was kind of very shy and very–very emotional about things, but I kind of would bounce back."
Lynn Redgrave
"God always has another custard pie up his sleeve."
Lynn Redgrave
This statement was released by her children:
"Our beloved mother Lynn Rachel passed away peacefully after a seven-year journey with breast cancer," said her three children, Ben, Pema, and Annabel in a statement. "The endless memories she created as a mother, grandmother, writer, actor and friend will sustain us for the rest of our lives."