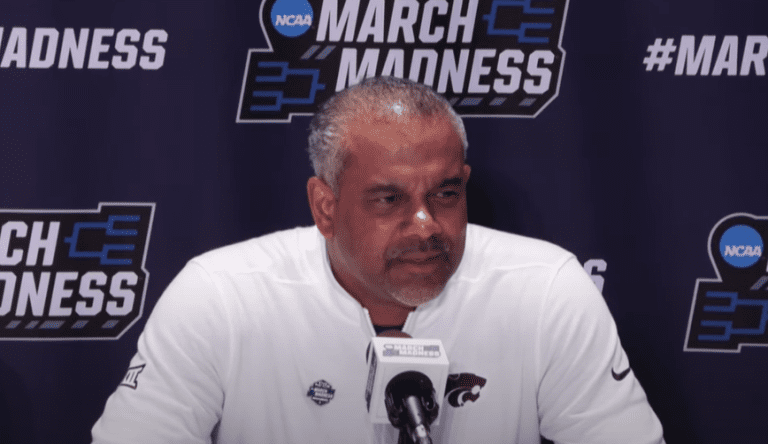 The first-year coach who has surpassed expectations by getting Kansas State to its first Sweet 16 appearance in five seasons said he sees his job as a "ministry" to prepare athletes to be leaders, fathers, and husbands.
Jerome Tang led the third-seeded Wildcats to two NCAA Tournament wins recently, first with a win over Montana State and another over Kentucky. Under Tang, Kansas State is 25-9 after finishing last season with a 14-17 record, missing the tournament. Tang got the head coach position in March 2022, previously serving as an assistant at Baylor, where he helped lead the Bears to a national championship in 2021. Before Baylor, he was a head coach at Heritage Christian Academy in Texas.
In post-game conferences after both wins against Montana State and Kentuck, Tang referenced his Christian faith. After the first win, Tang said, "I'd like to thank my Lord and Savior Jesus Christ for this opportunity that He's given me, the many blessings that He's placed on my life. I know my profession is coaching, but my calling and my passion is ministry. And I love being able to spend time around these young men and just help them to grow and become great husbands who are going to be great fathers and leaders in their community. It's just so much fun to do it through the game of basketball."
"I'd like to thank my Lord and savior Jesus Christ for this opportunity… My profession is coaching. My calling and my passion is ministry."

Kansas State's @CoachJTang after his first NCAA tourney win on Friday pic.twitter.com/7HtySIW0We

— Sports Spectrum (@Sports_Spectrum) March 18, 2023
Kansas State played Michigan State in the Sweet 16, winning 98-93. After the win against Kentucky, Tang said, "I'm so proud to represent Kansas State. I'm so proud to be a part of the community of Manhattan (Kansas). And I'm just blessed — so blessed." Tang was an assistant for 19 seasons at Baylor, including the last couple of seasons as associate head coach to Baylor's coach Scott Drew.
Media members participating in the annual preseason poll chose Kansas State to finish last in the Big 12. However, the Wildcats finished in third place, despite only having two players return from the 2021-2022 roster. In 2022, Drew said Tang prayed about the job opening at Kansas State.
According to Sports Spectrum, Drew said last year, "When he felt like God led him somewhere, he went. He's been more than ready for a long time. He just didn't have the calling to go. He's going to do a great job at K-State. I know no one's going to cheer louder or harder for him than I will, except when we play."
Unfortunately, Kansas State lost to Florida Atlantic in the Elite Eight round 79-76. Both teams got off to a hot start, trading baskets until Florida Atlantic's big man Vladislav Goldin made a layup to take the lead 20-18. The Owls would go into the half with a 42-38 lead.
However, Kansas State came storming back in the second half behind star guard Markquis Nowell's shooting and playmaking abilities. Kansas State led by as many as five before, yet again, the Owls came flying back into the game.
The Kansas State Wildcats' tournament dreams may be over for now, but with Jerome Tang and his solid faith at the helm, they'll likely return next year with the potential to go further.