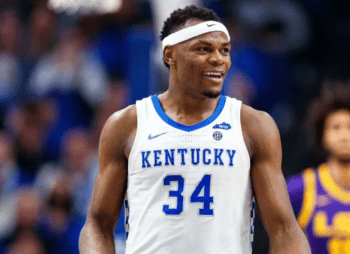 A college basketball All-American who claimed numerous player of the year honors last season says he decided to return for his senior year after fasting and praying to God.
Kentucky's Oscar Tshiebwe could have placed his name in the NBA draft after a dominating junior season that saw him win the Associated Press, Wooden and Naismith player of the year awards.
But the 6-foot-9 Congo native, who averaged 17 points and 15 rebounds, surprised the sports world by opting for one more year in college. The Wildcats (2-0) are ranked No. 4 in the latest Associated Press poll.
Tshiebwe told the Sports Spectrum Podcast that "every time" he has listened to people's advice, "I've always ended up not making good choices." Tshiebwe chose to listen to the Holy Spirit. "Fasting and praying," he said, helped him make the right decision.
"My dad told me that God has given us the Spirit – the Holy Spirit – who lives within us. If we ask anything according to His Word, He's going to help us," Tshiebwe said. "The Holy Spirit will guide us, will give us good directions. So I remembered that, and I said, 'Let me pray about this.' I prayed. I asked God, 'Speak to me.'… God said: I'm not done with you in this place. … If God is not done with you, that means He's still got work to do with you.
Tshiebwe said, "… When you submit everything to God, that means you trust Him. You believe He is going to help you. And the one thing about that is He's not gonna lead you the wrong way." Tshiebwe was the first consensus national player of the year in the storied history of Kentucky basketball, according to ASeaofBlue.com, a Wildcat sports website.
His bold faith derives from his father, he said. When people tell Tshiebwe that he has nothing more to accomplish in basketball, he said he tells them, "I can do more than people could imagine with the power of God."
"I'm very excited to see where God is gonna take us, and I'm praying for my team, my teammates, my coaches – everybody," Tshiebwe said. "And I always share the Word of God with them. I always invite them to wherever I go preach [in area churches] so they can hear the message, too."
When asked why he loves Kentucky so much, Tshiebwe said Kentucky feels like home to him and that he isn't going to leave Kentucky when his playing career is over. "I feel like I'm home. I feel like I'm home every time I'm in this place. I feel like I'm home. I even told my mom, I said, listen, I'm not leaving Kentucky. I'm gonna live in Kentucky. I love farms. I'm going to live in Kentucky one day at a farm. Because this place, people love me a lot. And I love them."
Tshiebwe went on to tell everyone not to sell all of the farms and to save one for him. "I tell people, like, I'll come back here and buy a farm, and I'll live in a farm here in Kentucky, so I'll be close to my beautiful people God has put around me."