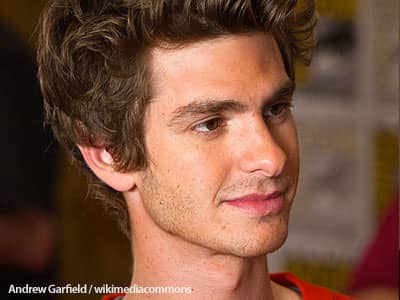 Actor Andrew Garfield is known for roles in hit films like "Spider-Man: No Way Home," but his string of performances in religious-themed movies has sparked questions about Garfield's interest in spiritual matters. In 2016 he portrayed Desmond Doss, a real-life Christian "conscientious objector" (Doss himself disliked the term) who enlisted as a medic in World War II. Despite his insistence not to carry a gun, Doss would go on to save over seventy soldiers throughout multiple battles until ultimately getting hurt himself.
Garfield portrayed Doss in the Mel Gibson helmed "Hacksaw Ridge," earning himself an Oscar nomination. Soon after, he followed with his role as Jesuit priest Father Sebastiao Rodrigues in Martin Scorsese's film "Silence." These two films dealt deeply with faith and convictions and how they affect a person's character during the most trying times.
Garfield's other two prominent faith-based roles, first as Jim Bakker in "The Eyes of Tammy Faye" and most recently as a Mormon detective investigating murders in "Under the Banner of Heaven," dive more deeply into questions of hypocrisy and abuse of power. In a recent interview with "Collider," Garfield responded to a Twitter user's question about his interest in portraying men of faith (or lost faith), saying, "For me, [spirituality] is a very fertile ground that is endlessly interesting because it's really- if you're dealing with spirituality, you're dealing with faith, then you're really dealing with life and death. And what's more vital?"
For his most recent role in "Under the Banner of Heaven," Garfield is branching out into the Mormon religion, and that will be interesting to see what kind of insight he gains from that experience. He was also slated to play Charles Ryder in a revamped mini-series of "Brideshead Revisited." However, that project was recently stated to be shelved by director Luca Guadagnino during an interview with Indiewire. "Brideshead" dives deeply into the Catholic faith.
It will be interesting to see if the project is picked back up with Garfield still attached and how that might impact Garfield's continued dive into spirituality. His interest in spirituality has seemed to influence him personally as in 2016, he described himself as a "pantheist, agnostic, occasionally atheist, and a little bit Jewish, but mostly confused" to the Hollywood Reporter, yet in 2017 he described himself as "falling in love with Jesus" in America Magazine.
In a recent interview in Vanity Fair, he stated that he would be studying theology if he weren't acting. "Questions of faith and spirituality, and the mystery of a spiritual life, is what I'm drawn to the most," Garfield said. "If I wasn't an actor, I think I'd be doing some kind of theological study." However, in that same interview, Garfield revealed that he's considering taking a break from acting. It's unclear where his following roles will take him or if this "break" will allow him to embrace the faith that seems to be speaking to his heart.
Cecilia Buchanan is first a follower of Christ, wife to her wonderful husband, and blessed mother of three beautiful girls. She is an avid Inklings nerd and would spend all day reading if she could. She has a passion for writing about Christian living and culture, homeschooling, and adoption.