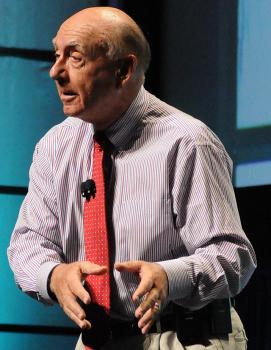 Dick Vitale recently shared an update about his health.
The legend and sportscaster icon has been diagnosed with lymphoma at 82. His announcement comes just a few months after telling the public about his battle against melanoma over the summer.
"For the second time in just a few months, I've been diagnosed with a form of cancer. As a result of some symptoms I've had in recent weeks, I've been undergoing tests, and doctors have now confirmed it's lymphoma." Vital said this week in an interview with ESPN.
His doctors could clear his body of melanoma after undergoing multiple surgeries, and they believe the lymphoma is entirely unrelated.
Vitale continued with, "What's evident is that the treatment plan for this lymphoma is going to be a lot tougher, and in both cases, early detection played an important role in helping to manage the cancers." At 82, the Hall of Famer is in good spirits and believes he's "fortunate' after witnessing firsthand many times the devastating impact cancer has on not just the person but also their family and loved ones.
"It can bring you to your knees. It's physically and emotionally exhausting. It robs you of so many things, including life itself for some of the most unfortunate patients. I never lose sight of that, and that's why I feel so lucky."
Vitale has a long journey ahead of him, which begins with a steroid treatment followed by six months of chemotherapy. Doctors told Vitale the treatment has a 90-percent cure rate, so he has a reason to be in good spirits. He has asked the public to give him a fist bump if you see him in public and say a prayer for him. The 82-year-old has promised, "I will fight with all my heart in dealing with the chemo and want to get back stronger than ever.
After starting his broadcast career with ESPN in the late 70s, the former collegiate and NBA head coach quickly rose to fame through his love of the game. Dick was inducted into the Naismith Memorial Basketball Hall of Fame in 2008.
Since calling the first NCAA basketball game in 1979 for Wisconsin at DePaul, Vitale has called nearly 1,000 games. He is undoubtedly a gem to be treasured for his dedication to the sport, even when considered controversial. Vitale believes every good thing that has ever happened to him is because of the morals and lessons his parents had given him growing up. They told Dick to give 110 percent in every aspect of his life, and his career and legacy mirror that.
His contract with ESPN continues through the upcoming season, but he has warned fans that his tapings will be sporadic due to his treatment schedule. "They say I can continue to work, so I will have to manage my work schedule around my chemo schedule as they will monitor my test results along the way," said Vitale.
After Vitale lost his close friend and fellow ESPN broadcaster, Jim Valvano, he committed to help stop the horrible disease. Dick became involved with the V Foundation, and The Dick Vitale Pediatric Fund at the V Foundation has awarded 55 million dollars to end pediatric cancer. For the last 16 years, Vitale has hosted an annual Gala that has helped raise millions of dollars for childhood cancer research.
The world is rooting for you, Dick Vitale.