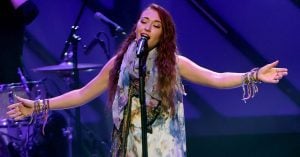 Earlier this month, the award-winning Christian singer Lauren Daigle offered an exclusive concert to the doctors, caregivers, first responders, and patients at Monroe Carell Jr. Children's Hospital at Vanderbilt.
The special virtual event featured six songs by Daigle. These included "You Say" and "Still Rolling Stones". A nonprofit organization, Musicians on Call, was ale to distribute the performance to 19 pediatric hospitals across the country.
In a press release, Daigle's team said that over 1,200 people were able to see the broadcast through the hospital's direct administration.
"We're incredibly grateful to Lauren Daigle and all our friends in the music industry for the outpouring of support for our staff, nurses, doctors, patients, and families, particularly during these unprecedented times," said Meg Rush, MD, MMHC, President of Monroe Carell Jr. Children's Hospital at Vanderbilt.
"Music has always been an integral and important part of the fabric of our hospital, with visits in person, and now virtually, from artists like Lauren, and through organizations like Musicians On Call." Rush continued. "Lauren's healing and inspiring performance uplifted us all and brought smiles to children's faces."
Lauren took to Twitter to thank the hospital for helping her make the concert happen.
It was my honor to perform a virtual concert a few weeks back for all the doctors, caregivers, first responders and patients at @VUMCchildren's Hospital! Thank you @VUMChealth for helping make this happen ❤️ #Gratitunes pic.twitter.com/RzXV5LfqsM

— Lauren Daigle (@Lauren_Daigle) June 11, 2020
The concert was a part of Vanderbilt University Medical Center's (VUMC) 'Gratitunes' campaign. Throughout the month of April, Nashville artists provided 'Gratitunes' to VUMC's medical staff via "performances and words of encouragement on their personal Instagram page(s)."
The effort resulted in a compilation of over 1,200 Gratitunes and 5,000 songs into a special playlist "that was made available to VUMC COVID-19 Assessment Sites and hospital staff to help lessen stress and anxiety, and lift spirits" amid the coronavirus pandemic.