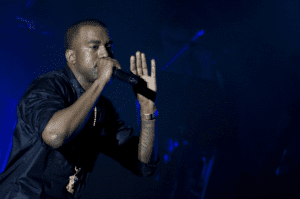 Non-believers quickly label Christians as judgmental and sinful. They will say that Christians should keep quiet and to themselves. Even some other Christians believe this. Kanye West, though, is reminding Christians to stay loud and speak out.
In an interview with GQ magazine, West said: "I feel that we all have sin, and when certain sins are worn more on our sleeves, it's easier for Christians who are not Christ, but are human beings, to be able to channel judgment at what they see in front of them. The other thing is, if anyone claims to be Christian, they're accepting accountability to other Christians."
He continued, "But people don't realize that Christians are loud. That we have a right to righteous anger. That Jesus flipped tables. They think that all of a sudden you believe in Christ, so we're not even supposed to speak up. And if we speak up, people will say, 'Oh, you're being judgmental.' And it's like, 'Oh, now, because I'm Christian, I don't even have an opinion anymore?' I'm Christian and I still have an opinion. But my opinion is based on the Word."
West believes we all should hold each other accountable. We can do so without passing negative judgment on each other, but instead, help each other reach our spiritual goals. None of us are perfect, and West himself is a born-again Christian.
"To live inside of sin, it's going to cost you more than you can pay," West added. "You don't want to continue to sin with no repentance. I understand that people feel that I've made some cultural sins. But the only real sins are the sins against God, and you don't want to continue to sin against God."
West puts together popular "Sunday Service" gatherings each week, and he hopes they are places of support and non-judgment.
"I feel that the church that most people grew up in as kids had a negative environment. The greatest thing for me, as someone who's given their life to Christ, is knowing that other people have that as an anchor and a form of healing."