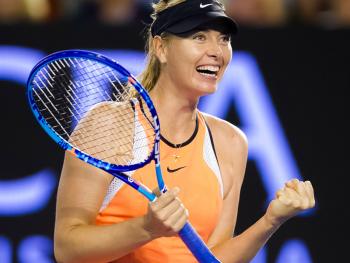 One of the world's most globally recognized athletes has announced her plans to retire, but she wants the world to know this doesn't mean she's quitting.
Maria Sharapova said she has been playing through her pain for over two years. Recurring tendon damage in her right shoulder and inflammation in her forearms has made it excruciatingly painful to grasp a tennis racket.
The recent death of Kobe Bryant, a close friend to Sharapova, made it perfectly clear to Sharapova that it was time. "If anything it just opens up your eyes to what really matters in life, so that was a moment where I had a really good think about my future as well."
Sharapova returned to tennis in 2017 following a 15 month suspension for testing positive for meladonium in 2016. Unfortunately, her comeback didn't put her back into the top 20 she once dominated.
Although she has decided to hang up her tennis racket, Sharapova will always be remembered for her achievements on the court, and the inspirational story behind how it all started.
Born in Nyagan Russia, Sharapova's parents knew from early on that their daughter was a phenomenal athlete. With very little money, Sharapova's father decided to travel to the United States for Maria to continue her training. Visa restrictions prevented Sharapova's mother from making the trip, but she would later join them.
By the age of 11, Sharapova had signed with Nike and within 10 years had won three grand slams. The grit she gained through overcoming challenges such a language barriers and being away from her mother, built her mental toughness, which caught people's attention.
"Her mind was just unbelievable, it was never in her mind to be a failure," Sharapova's coach Nick Bollettieri said.
The sacrifices her family made for her would contribute to Maria later winning 36 titles in total, ranking number 1 in singles by the WTA (Women's Tennis Association) the only Russian to hold the career Grand Slam, and being an Olympic Medalist.
"Look, would I have loved to have a sixth, a seventh, an eighth Grand Slam trophy?" she said. "That number sounds better, but I could have had zero when I started, and I got myself to a pretty incredible place."
In this new chapter of her life, Sharapova has already made plans to study architectures as well as grow her candy businesses. Her retirement will also give her more time to spend with longtime boyfriend British businessman, Alexander Gilkes.