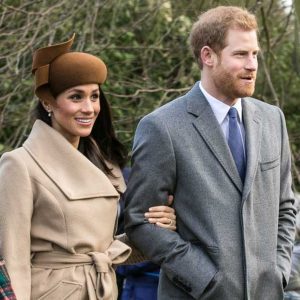 Meghan Markle and Prince Harry welcomed their first child, a son weighing 7 pounds, 3 ounces, on Monday.
"The Duchess went into labour in the early hours of this morning. The Duke of Sussex was by Her Royal Highnesses' side. An announcement will be made soon," a statement from Buckingham Palace announced Monday morning.
Shortly after, they shared on Instagram that the couple had welcomed a baby boy. "We are pleased to announce that Their Royal Highnesses The Duke and Duchess of Sussex welcomed their firstborn child in the early morning on May 6th, 2019. Their Royal Highnesses' son weighs 7lbs. 3oz," the announcement noted. "The Duchess and baby are both healthy and well, and the couple thank members of the public for their shared excitement and support during this very special time in their lives."
The newest addition to the Windsor family is a first cousin of the Duke and Duchess of Cambridge's children, Prince George, Princess Charlotte and Prince Louis, and a fourth grandchild for the Prince of Wales. He is the Queen's eighth great-grandchild, and will be seventh in line to the throne.
The baby's sex was a surprise for the delighted couple, who chose not to find out what they were having. They have not yet finalized a name.
The prince and former "Suits" actress announced that they were expecting their first child in October, about five months after the royal wedding on May 19. The two previously announced that their birth plan would be much different from The Duke and Duchess of Cambridge's, as they wanted the event to be more "private."
"It's been the most amazing experience I could ever possibly imagine," the Duke of Sussex said while appearing for cameras Monday morning. "How any woman does what they do is beyond comprehension, but we're both absolutely thrilled."